Extreme weather response plan stalls
A bill that would require Nebraska to develop a plan to respond to extreme weather risks stalled during the first round of debate July 23.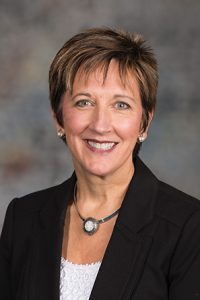 LB283, introduced last year by Lincoln Sen. Patty Pansing Brooks, would have required the University of Nebraska to develop a strategic action plan to provide methods for adapting to and mitigating the impacts of climate change.
A pending Executive Board amendment would shift the focus to extreme weather risks and change the $250,000 funding source from the Waste Reduction and Recycling Incentive Fund to the Petroleum Release Remedial Action Collection Fund.
Pansing Brooks said the proposal would be the final step in a bi-partisan legislative effort begun in 2016, when a special committee recommended development of a climate action plan.
"Pests, droughts, flood, high winds and other extreme weather events present serious, diverse and ongoing issues for Nebraska," she said, impacting every sector of the economy from agriculture to health care.
A decision was made to narrow the focus of the plan, she said, in part due to recent historic flooding.
"We have had two 500-year floods within the past 10 years," Pansing Brooks said.
Omaha Sen. John McCollister supported the bill, calling climate change "a life and death threat," and the most pressing issue facing the state and the country.
"The frequency of extreme weather will increase if climate change forecasts are correct," he said. "[This amendment] welcomes all efforts to reduce those risks."
Gretna Sen. Andrew LaGrone opposed the amendment's funding mechanism. He said the Petroleum Release Remedial Action Collection Fund is used to address leaking oil tanks in the state and should be preserved for that purpose.
"It doesn't make any sense to take money from a fund that's cleaning up real environmental damage to study environmental damage," LaGrone said.
Other opposition focused on the veracity of climate science.
Sen. Dan Hughes of Venango opposed the bill and the amendment. He said several entities in Nebraska already are charged with preparing for extreme weather and another plan is not necessary to deal with what is essentially an "active weather pattern."
"I'm not a believer in climate change," Hughes said. "As an ag producer, I've lived and breathed by the weather for over 60 years."
Sen. Steve Erdman of Bayard offered a motion to bracket the bill until Aug. 13, which would effectively end debate on the proposal. He said that policies requiring Americans to end the use of fossil fuels would "end life as we know it."
"This climate change catastrophic theory is a hoax," Erdman said.
Columbus Sen. Mike Moser supported the bracket motion, calling LB283 a "feel good" proposal. Climate change is a long-term trend, he said, that has been studied extensively but not addressed because both legislators and citizens lack the political will to do so.
"I think it's a waste of time," Moser said.
Sen. Megan Hunt of Omaha spoke against the bracket motion and in support of LB283 and the amendment. A state in which 40 percent of economic output relies on agriculture should care about climate security, she said, adding that students in her urban district are deeply concerned about the subject.
"We have a failure of imagination in [the Legislature] to solve big problems," Hunt said.
After three hours of debate, lawmakers moved to the next item on the agenda without voting on the bracket motion, the amendment or the bill. Per a practice implemented by Speaker Jim Scheer, the sponsor of a bill that is facing a potential filibuster must demonstrate sufficient support for a cloture motion before the measure will be scheduled for additional debate.