Natural resources omnibus bill advances
Senators gave first-round approval July 22 to a bill containing provisions of several proposals related to natural resources.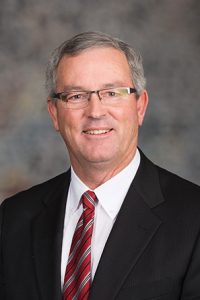 As introduced by Venango Sen. Dan Hughes, LB632 would make a technical change to a law related to rural water districts. A Natural Resources Committee amendment would have replaced the bill with the provisions of four other measures that the committee heard this session.
Omaha Sen. Megan Hunt made a motion to divide the question and consider the amended provisions of LB861, introduced by Hughes, as a separate amendment. The motion carried.
The Hughes proposal would prohibit a county, municipality or agency from adopting, enforcing or administering an ordinance or resolution that prohibits the use of or sets standards, fees, prohibitions or requirements regarding the sale, use or marketing of containers.
It defines a container as a single-use, recyclable or reusable bag, cup, can, pouch, package, container, bottle or other packaging made of cloth, paper, plastic, cardboard, aluminum, glass or certain other materials and that is "designed for consuming, protecting or transporting merchandise, food or beverages from or at a food service or retail facility."
The prohibition would not apply to county, municipality or agency recycling or solid waste collection programs so long as those programs do not "prohibit or have the effect of prohibiting the sale, use or marketing of any containers."
Hughes said the proposal would provide for uniform regulation of containers statewide, allowing businesses to streamline their operations by not having to comply with varying and confliction regulations.
Hunt said she opposed the provisions of LB861 because they would preempt local control. No Nebraska municipality has enacted a ban on single-use plastic bags except Omaha, she said, where the mayor vetoed it.
"That's exactly how we want the system to function," Hunt said. "Let the local process work how it works."
When cities in other states have enacted regulations on containers, she said, retailers have adapted.
Lawmakers voted 28-10 to adopt the amendment containing the provisions of Hughes's bill. They then voted 41-0 to adopt the amendment containing the provisions of the other three bills.
The provisions of LB769, introduced by Creighton Sen. Tim Gragert, would require that each member of the Nebraska Natural Resources Commission be a Nebraska resident.
Under LB1201, as introduced by Sen. Bruce Bostelman of Brainard, a new task force would create a statewide flood mitigation plan.
The amended provisions would require the state Department of Natural Resources to create the plan as a standalone document that would be included in the state hazard mitigation plan maintained by the Nebraska Emergency Management Agency.
The proposal would require the department to convene a plan development group and work with federal, state and local agency and community stakeholders to develop the plan.
Among other tasks, the department would identify opportunities to implement flood hazard mitigation strategies, identify potential funding sources that can be used for flood mitigation and post-flood disaster recovery and compile a list of critical infrastructure and state-owned facilities and identify those with the highest risk of flooding.
The amended provisions of LB933, introduced by Sen. Sue Crawford of Bellevue, would prohibit a public or private utility company from charging a fee for the discontinuance or reconnection of service that exceeds the reasonable costs of providing such service.
Crawford's proposal also would make several changes to current law prohibiting most public and private utilities from discontinuing service to subscribers for nonpayment unless it first notifies them.
Crawford said the coronavirus pandemic makes the proposed changes more timely than ever.
At the end of June, she said, Lincoln Electric System reported that the number of past-due accounts is 350 percent higher than normal for this time of year, and the Metropolitan Utilities District in Omaha reported twice as many customers were at risk of disconnection as of July 1 as were at the end of March.
"With many Nebraskans out of work, utility bills are a challenge for many that are struggling to keep up with the loss of income and juggle other bills and obligations," Crawford said.
Senators voted 39-0 to advance LB632 to select file.