Injury leave for school employees clears first round
School employees who are injured by another person while at work would receive injury leave under a bill advanced by lawmakers March 5.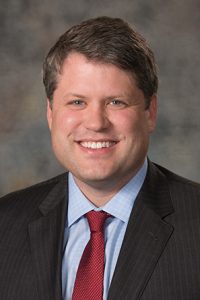 Lincoln Sen. Mike Hilgers, sponsor of LB1186, said teachers who cannot work after being assaulted while on the job currently may receive workers' compensation benefits after seven days. If they are absent for seven or fewer days, however, they must use personal or sick leave, he said.
Some school districts offer formal or informal assault leave to teachers, Hilgers said, but that policy is not common across the state.
"If you are assaulted on the job … you should not have to come out of your own pocket for your own sick leave or personal leave to take care of that," he said.
Under the bill, a school district employee who is physically injured by another person who "intentionally, knowingly or recklessly causes bodily injury" to that employee would receive up to seven days of injury leave and be paid their usual salary for the time they are absent and unable to work as a result of the injury.
The employee's injury must have occurred within their scope of employment in a way that would be covered by the Nebraska Workers' Compensation Act.
Under the bill, injury leave would not count against any other leave an employee accrues. In determining the applicability of injury leave, a school district could require confirmation from a physician regarding the causation and the period of time for which an employee is unable to work.
LB1186 also would require each school district to report annually to the state Department of Education the number of incidents resulting in injury leave and the total number of injury leave days taken.
An Education Committee amendment, adopted 41-0, would remove that provision.
North Platte Sen. Mike Groene, the committee's chairperson, said such data already is available from the Nebraska Workers' Compensation Court. Removing the requirement would eliminate the bill's cost, he said.
Sen. Joni Albrecht of Thurston supported LB1186, saying it would help Nebraska attract and retain teachers by ensuring that they do not have to sacrifice their sick or personal leave if they are assaulted at work.
"If injured on the job by an intentional assault," she said, "the school should have the responsibility to make sure that that teacher is then … taken care of financially."
Groene also supported the bill, saying that his staff found more than 300 cases last year in which a teacher took at least seven days of leave after being injured in a job-related assault.
"This is just one thing we can do to help those teachers who are so severely assaulted that they have to take time off of work from the injuries," he said.
Also in support was Lincoln Sen. Matt Hansen. He said the seven-day gap applies to almost all Nebraska workers unless their collective bargaining agreement offers some type of assault leave.
Although LB1186 would help solve that problem for teachers, he said, the Legislature might want to consider future legislation that would extend the same assistance to workers in other high-risk professions.
Senators voted 45-0 to advance the bill to select file.