Indoor e-cigarette ban amended, advanced
Electronic smoking devices would be banned inside public buildings under a bill advanced from general file Feb. 27.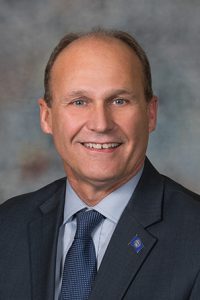 LB840, as introduced by Grand Island Sen. Dan Quick, would amend the Nebraska Clean Indoor Air Act to prohibit use of an electronic smoking device that creates an aerosol or vapor.
The vapor released by electronic cigarettes is unsafe, Quick said, exposing non-smokers to health risks.
"Our citizens deserve clean air to breathe," he said.
Sen. Machaela Cavanaugh of Omaha spoke in support of the bill. She said secondhand vapor can be detrimental to people who, like her six-year-old daughter, have asthma.
"My child's health and life should not be put in jeopardy because of a recreational activity of someone else," she said.
Sen. John Lowe of Kearney spoke in opposition to the bill. He said the definition of electronic smoking device was too broad and could include humidifiers or aerosol products used in public.
Quick introduced an amendment, adopted 34-1, to narrow the definition to an electronic nicotine delivery system, which would mirror the definition placed in state law last year. The change would exclude devices like asthma inhalers from the bill, Quick said, adding that more work would be done before the next round of debate.
Sen. Mike Groene also opposed the bill, saying it could hurt vape shops. Most of the recent fatalities from vaping, he said, were caused by people vaping marijuana, not using regulated cartridges sold in stores.
"Let's not demonize everything," Groene said.
A Health and Human Services Committee amendment would exempt licensed retail outlets that sell vaping products from the Nebraska Clean Indoor Air Act, enabling vape shop customers to sample products. A qualifying outlet would be restricted to individuals 21 and older that only sells electronic smoking devices and related products.
The committee amendment was adopted 29-4 and lawmakers advanced LB840 to select file on a vote of 31-2.