Resilience training; PTSD injury claims for first responders advanced
Senators gave first-round approval Feb. 26 to a bill meant to address the mental health strain experienced by emergency first responders.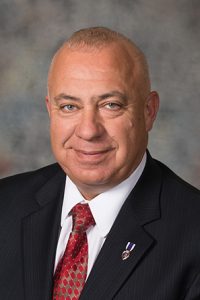 LB963, sponsored by Gordon Sen. Tom Brewer, would provide first responders with opportunities to receive resilience training to help prevent or mitigate the effects of post-traumatic stress disorder.
The bill is necessary, Brewer said, because failing to identify PTSD can have fatal consequences.
"It's important that we're not just treating [PTSD], but that we also have a way to follow up and ensure they have a path [forward] to get better," he said.
The bill would allow first responders to establish a presumptive case of PTSD from cumulative injury or stress as a personal injury for workers' compensation purposes.
To establish such a case, the first responder must show that he or she: underwent a mental health examination before the onset of the mental injury or illness, obtained testimony from a qualifying mental health professional that he or she suffers from a mental injury or illness and participated in resilience training prior to the onset of the mental injury or illness and annually thereafter.
The state Department of Health and Human Services would reimburse first responders for resilience training if their employers do not.
Under LB963 as originally introduced, a practicing physician, psychologist, physician assistant, advanced practice registered nurse, mental health practitioner or clergy member all would be qualified to render an official diagnosis of PTSD.
A Business and Labor Committee amendment, adopted 37-0, narrowed the definition of a mental health professional to include only state-licensed practicing physicians, psychologists and mental health practitioners.
The amendment also clarified that a mental injury or illness must have arisen from conditions of employment.
Omaha Sen. Mike McDonnell supported the measure. First responders see and experience things while on duty that take an incredible toll on their mental health and will stay with them for the rest of their lives, he said, leading some to commit suicide.
"They love the job and they love serving," McDonnell said. "They don't want to leave their families but they did because they couldn't handle it."
Sen. Carol Blood of Bellevue also spoke in support of LB963. Statistics do not capture fully the number of PTSD-related deaths of first responders, she said, because of the social stigma surrounding mental health issues.
"It's not reasonable to ask our first responders to bear the heavy burdens of duty-induced trauma without giving them the help and the means that they need to cope," Blood said.
Senators advanced the bill to select file on a 42-0 vote.