Proposal to curb unexpected medical bills advanced
Lawmakers advanced a bill from general file Feb. 20 that would reduce "surprise billing" for emergency medical care.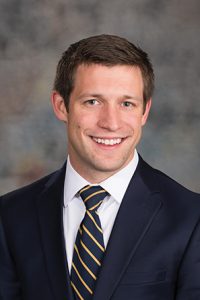 LB997, as introduced by Sen. Adam Morfeld of Lincoln, would create the Out-of-Network Emergency Medical Care Act, which would allow for resolution of unexpected medical bills due to an emergency visit to a health care facility or provider that was not in a patient's health insurance network.
The bill defines an emergency as the sudden onset of a medical condition that would place the person in serious jeopardy if not treated immediately, and limits a patient's expenses to what would have been charged if the patient had been treated at an in-network facility.
Morfeld said the bill would help reduce the number of bankruptcies due to unexpectedly large medical bills by removing the insured from any ensuing dispute between an insurance company and a health care provider.
He asked senators to imagine being rushed to the emergency room of an in-network hospital, and then months later receiving a bill for thousands of dollars.
"And the realization hits you that the ER doctor and the hospital [were] in network but maybe one of those other providers wasn't in network and you didn't know that," Morfeld said.
Sen. Mike Groene of North Platte supported the bill, calling it "badly needed." He described a constituent who received emergency surgery at a hospital that was not part of the person's health insurance network.
"They're facing bankruptcy now," Groene said. "They had insurance."
A Banking, Commerce and Insurance Committee amendment would provide a framework for how to settle unpaid claims. A claim would be deemed reasonable if it is the higher of the contracted rate under an existing in-network contractual relationship between the insurer and the out-of-network health care provider for the same or similar services, or 175 percent of the payment rate for Medicare services for the same or similar services in a geographic area.
If a claim is deemed unreasonable the insurer and the provider would engage in mediation in accordance with the Uniform Mediation Act.
Senators adopted the amendment 37-0 and advanced LB997 to select file on a vote of 43-0.