Bill seeks open communication between senators, agencies
An effort to facilitate open dialogue between certain state employees and lawmakers was considered Feb. 20 by the Executive Board.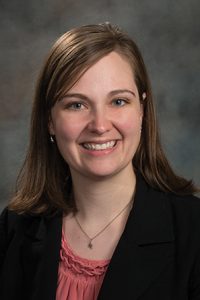 LB1191, sponsored by Omaha Sen. Sara Howard, would add language to the Office of Juvenile Services Act to provide express permission for employees of the Office of Juvenile Services, state Department of Health and Human Services and state Department of Correctional Services to communicate with members of the Legislature and the Office of Public Counsel.
The bill also would require that employees of those agencies be allowed to testify at any public hearing regarding the operations and conditions of the department in which they work.
Howard said the bill was driven in part by recent experiences with employees of the state's troubled Youth Rehabilitation and Treatment Centers, who she said wanted to talk to state senators about deteriorating conditions at the facilities, but feared retaliation from DHHS.
In addition, Howard said, a recent directive to employees of the state Department of Correctional services indicated that any employee who is contacted by a state senator must report that contact to their superior.
State employees also are citizens and taxpayers, she said, and should have reasonable access to their elected officials.
"I never want us working in a vacuum," Howard said. "We make the worst policies when we have the least amount of information."
Spike Eickholt, testifying on behalf of the ACLU of Nebraska, supported LB1191. The insight provided by frontline employees is invaluable, he said, and they should be encouraged to speak freely about issues of public concern.
"This bill is consistent with open and transparent government," Eickholt said.
Omaha Sen. Steve Lathrop, chairperson of the Judiciary Committee, also testified in support of LB1191. In addition to making laws, he said, senators need to fulfill their oversight role—especially of departments as troubled as corrections.
"That oversight responsibility needs to be meaningful," Lathrop said, "and it's only meaningful if we have access to employees in those agencies."
Scott Frakes, director of the state Department of Correctional Services, testified against the bill, which he said could lead employees to represent themselves as speaking on his behalf, or on behalf of the department, without his knowledge or input.
Corrections employees are free to speak to senators and to identify themselves as employees of the agency, he said, but ultimate responsibility for speaking for the agency belongs to the director.
"While I can delegate some authority; I can't delegate responsibility," Frakes said.
Also testifying in opposition was DHHS CEO Danette Smith. She said the department has been open and forthcoming with state senators and the Office of Public Counsel.
Smith said that allowing staff to be available to senators "at all reasonable times" as outlined in the bill, however, could increase the workload of other staff members, jeopardize the care of vulnerable individuals and possibly lead to confidentiality violations.
The committee took no immediate action on LB1191.