Proposal to increase cap on legislative membership stalls
A proposed constitutional amendment to raise the maximum possible number of Nebraska state senators stalled on general file Feb. 5.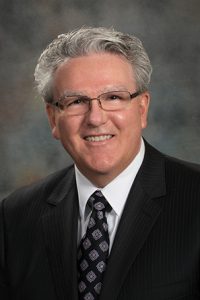 LR279CA, introduced by Sen. Jim Scheer of Norfolk, would raise the maximum number of state senators authorized by the state constitution from 50 to 55. If approved by 30 senators, the measure would be placed on the ballot for voter approval during the 2020 general election.
Scheer said the proposal itself would not increase the number of state senators, which has been at 49 since the 1960s, but merely would give the Legislature the option of possibly adding members in the future.
He said that while increasing the number of senators would not decrease the geographical size of current districts, doing so could keep rural districts that already are difficult for a senator to manage from becoming even larger. In addition, he said, the change would decrease the number of constituents that each member serves.
The first Unicameral had 43 members, Scheer said, each representing approximately 27,000 constituents. Current population estimates put that number at around 40,000 per district for the next round of redistricting in 2021, he said.
"If you do nothing, our representation will have gone up 50 percent since 1937," Scheer said.
Lincoln Sen. Mike Hilgers supported the proposal, saying it simply would give the Legislature additional authority to possibly use in the future to help members be more responsive to constituent needs.
"I don't think there's any doubt from a logistical, constituent-access perspective—the larger our districts get, the more population that we have, it makes it harder for us … to be able to interact with our constituents," Hilgers said.
Omaha Sen. Justin Wayne questioned whether—in the age of social media and email—senators need to interact face-to-face with constituents frequently in order to serve them well.
"We are at a place in history where we have more technology and access to our elected officials than [ever]," Wayne said, adding that many office holders, such as Douglas County Commissioners and Omaha City Council members, represent far more people than each state senator does.
Sen. Patty Pansing Brooks of Lincoln expressed concern about the potential cost should the number of senators increase in the future—in terms of staffing, office space and possibly longer sessions to accommodate consideration of a greater number of bills.
"Right now, in my opinion, bill drafters are completely overloaded," Pansing Brooks said. "I think that they have so much work to do."
Scheer said the measure "has no cost" because it is permissive language only and any spending considerations relating to its potential implementation would be up to future lawmakers to debate.
Following three hours of discussion over two days, the Legislature moved to the next item on the agenda. Per a practice implemented last year by Scheer, the sponsor of a bill that is facing a potential filibuster must demonstrate sufficient support for a cloture motion before the measure will be scheduled for additional debate.