Session Review: Appropriations
Lawmakers approved the state's $9.3 billion, two-year budget package this session.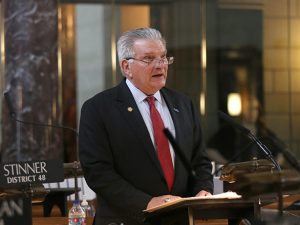 Among the measures passed was LB294, the mainline budget bill, which funds state government for the next two fiscal years. The bill was introduced by Speaker Jim Scheer of Norfolk at the request of the governor and includes:
• LB174, sponsored by Lincoln Sen. Kate Bolz, which increases general funds to the state Office of Violence Prevention by $300,000 per year in the next two fiscal years;
• LB181, sponsored by Bolz, which uses $87,500 from the Nursing Facility Penalty Cash Fund
• to pay for a study to examine demographic trends, project current and future service needs and provide recommendations for continued statewide access to long-term care services, including nursing facility care, for Medicaid recipients;
• LB327, also sponsored by Bolz, which increases behavioral health provider rates by $1.5 million in FY2019-20 and $3.6 million in FY2020-21; and
LB403, sponsored by Gering Sen. John Stinner, which changes the Medicaid rate calculation for nursing facilities.
LB294 passed on a vote of 35-12.
Provisions of LB202, sponsored by Lincoln Sen. Anna Wishart, were amended into LB293, a portion of the budget package that adjusts current year appropriations.
The provisions appropriate $2.7 million in the current fiscal year to the state Department of Health and Human Services as the last of three payments to developmental disability providers who did not receive full compensation for services rendered due to a DHHS error.
Senators approved LB293 on a vote of 45-2.
Provisions of LB446, sponsored by Omaha Sen. Mike McDonnell, were amended into LB298, which repeals and creates funds and makes certain fund transfers.
The provisions authorize the use of funds from the County Justice Reinvestment Grant Program
to supplement existing programs, services and approaches to reduce jail populations and costs. Any aid not distributed to counties through the existing formula will be distributed on a competitive basis to counties demonstrating additional need in identified funding areas.
LB298 passed on a 46-2 vote.
Additional budget measures approved were:
• LB295, which provides for the $12,000 annual salaries of Nebraska's 49 state senators, passed 43-4;
LB296, which funds salaries and benefits for judges and constitutional officers, passed 47-0;
LB297, which appropriates funds for reaffirmed and new capital construction projects, passed 38-9;
• LB299, which makes a $54.7 million transfer to cover costs for two additional high security housing units for the state Department of Correctional Services, passed 43-4; and
LB464, which provides for payment of claims against the state, passed 46-1.
The governor offered no line-item vetoes of the budget bills this session.
Other measures
Lawmakers passed a bill this session intended to increase assistance available to startup companies through the state Department of Economic Development.
LB334, sponsored by Stinner, eliminates the Angel Investment Tax Credit, which was scheduled to terminate in 2022.
In FY2020-21, the $4 million annual cost savings will be directed to the state Military Department for the governor's emergency program to assist those impacted by recent flooding. Beginning in FY2021-22, funds will be directed to DED to fund programs under the Business Innovation Act.
The bill requires DED and the Appropriations Committee to assess and evaluate the financial status and economic impact of programs funded under the Business Innovation Act.
LB334 also includes provisions of LB452, sponsored by Elmwood Sen. Robert Clements, which transfer Cass County from its current planning and development region to Region 8. The provisions also place a moratorium on future boundary changes until July 1, 2020.
Lawmakers passed the bill 47-0.
Senators also established a trust fund for brain injury research and advocacy in Nebraska.
LB481, as originally introduced by Bolz, would have stated intent regarding how the state Department of Health and Human Services administers the federal Title X Program.
Those provisions were removed and replaced with LB642, introduced by McDonnell. The bill creates the Brain Injury Trust Fund, which consists of general fund appropriations and transfers authorized by the Legislature, grants and any contributions designated for the purpose of the fund.
The bill transfers $500,000 annually to the Brain Injury Trust Fund from the Nebraska Health Care Cash Fund, beginning in FY2020-21.
The Brain Injury Trust Fund will be administered through a contract with the University of Nebraska Medical Center for administration, accounting and budgeting purposes and used to pay contracts for assistance to individuals with a brain injury. No more than 10 percent of the fund may be used for administration.
LB481 also creates a 12-member Brain Injury Oversight Committee. The bill passed on a 41-1 vote.
A proposal that would increase funding for pancreatic cancer research remains in committee.
LB669, sponsored by Seward Sen. Mark Kolterman, would appropriate $15 million from the Nebraska Health Care Cash Fund to the University of Nebraska Medical Center for the establishment of a pancreatic cancer research center. No funds would be distributed until the university has received $15 million in matching private or other funds for the same purpose.