Session Review: Business and Labor
Among the issues considered by members of the Business and Labor Committee this session were strengthening worker protections, raising the tipped minimum wage and expanding unemployment benefits and family leave.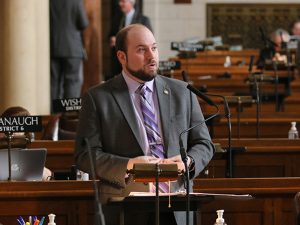 Worker protections and wages
Lawmakers approved a bill meant to assist individuals facing collection of certain medical debts.
LB418, sponsored by Omaha Sen. Machaela Cavanaugh and passed 35-0, prohibits collection of a debt incurred for treatment of a work-related injury while the matter is pending in the Nebraska Workers' Compensation Court.
Under the bill, written notice that the matter is pending will be provided to collection agencies seeking to collect on a debt. A second notice will be sent within 30 days of the initial notice, including specific details of the debt.
The state attorney general is authorized to investigate collection agencies that do not comply with the bill's provisions.
The measure includes provisions of LB360, originally sponsored by Lincoln Sen. Matt Hansen. These allow the Nebraska Workers' Compensation Court to appoint a power of attorney for a claim, settlement or disbursement of money for nonresident alien dependents if the court believes the dependents are better served by someone other than the consular officer of their resident country, or if no consular officer exists.
Provisions of LB178, sponsored by Lincoln Sen. Mike Hilgers, also are included in the bill. These update and change references to the state Department of Administrative Services' risk manager and make changes to allow for a more efficient claims process.
LB217, introduced by Lincoln Sen. Patty Pansing Brooks, prohibits an employer from discharging or retaliating against any employee because he or she inquired about, discussed or disclosed comparative wage, benefit or other compensation information.
The bill prohibits disclosure or dissemination of:
• information to a competitor;
• proprietary or other privileged information; or
• information to the general public or by an employee during work hours.
LB217 does not apply to employers that are exempt from the Nebraska Fair Employment Practice Act and does not create an obligation for any employer or employee to disclose information regarding wages, benefits or other compensation.
The bill passed on a 46-1 vote.
A measure to raise the state's tipped minimum wage remains on general file.
LB400, introduced by Omaha Sen. Megan Hunt, would increase the tipped minimum wage from its current level of $2.13 to 40 percent of the standard minimum wage rate in 2020 and 50 percent in 2021.
If the standard minimum wage remains at its current level of $9.00 per hour, the minimum wage
for persons compensated by way of gratuities would be $3.60 per hour in 2020 and $4.50
per hour in 2021.
A pending amendment from Lincoln Sen. Anna Wishart would make a single, one-time tipped minimum wage increase to $4.50 per hour, rather than the incremental approach proposed in the original bill.
After two days of debate, the Legislature adjourned without taking action on LB400. Per a practice implemented by Speaker Jim Scheer, the sponsor of a bill that is facing a potential filibuster must demonstrate sufficient support for a cloture motion before the measure will be scheduled for additional debate.
Bellevue Sen. Sue Crawford's LB311, which would provide partial wage replacement for eligible workers to care for themselves or a family member following a serious illness or to care for a new child, also was passed over in accordance with the three-hour policy and did not return to the agenda.
A pending Business and Labor Committee amendment would replace the bill. As amended, covered individuals would be entitled to take leave under the bill beginning Jan. 1, 2022. Available leave would vary between six and 12 weeks during any calendar year dependent on the qualified reason for the leave.
Crawford introduced an amendment, which is pending, that would reduce available leave to four to six weeks during a calendar year, dependent on the qualified reason for leave.
A bill that would require a prospective employer to evaluate a job applicant's qualifications without an initial check of his or her criminal history advanced from committee.
LB254, as originally introduced by Sen. John McCollister of Omaha, would have barred certain employers and employment agencies from asking about a job applicant's criminal history until the employer or agency determines whether the applicant meets the minimum qualifications of the position. The requirement would apply to businesses with 15 or more employees.
As amended, the bill instead would require an employer that asks an applicant to disclose his or her criminal history to afford the applicant the opportunity to explain a past conviction or other criminal history. LB254 would not apply to the state of Nebraska, local governmental agencies or political subdivisions.
The bill was advanced to final reading, where it remains.
LB305, introduced by Crawford, would require employers with four or more employees to provide paid sick and safe leave. Under the proposal, employees would accrue at least one hour of paid leave for every 30 hours worked. Employees could earn up to 40 hours of paid leave per year, based on hours worked.
The bill remains in committee.
Unemployment
Certain seasonal construction employees are exempt from a specific unemployment benefit requirement under a bill passed by the Legislature.
Under LB428, introduced by Henderson Sen. Curt Friesen, highway construction employees who are prohibited by the state Department of Transportation from working during the winter months will not have to prove that they actively are searching for employment to receive unemployment benefits.
The bill also increases the amount that construction employers contribute to the unemployment fund. LB428 passed on a 42-0 vote and takes effect Jan. 1, 2020.
An effort to expand unemployment benefits failed to pass this session.
Currently, a person who voluntarily leaves employment with "good cause" is eligible for unemployment benefits under employment security law. LB306, introduced by Crawford, would add leaving employment to care for a family member with a serious health condition to the existing list of good cause reasons.
An employee would be required to make all reasonable efforts to preserve his or her employment before voluntarily leaving.
The bill failed to pass on a 20-15 vote. Twenty-five votes were needed.
Other measures
A bill authorizing payment of claims against the state of Nebraska also passed this session.
LB464, introduced by Business and Labor Committee chairperson Hansen, was included as part of the state budget package and passed 46-1.
LB577, introduced by Omaha Sen. Tony Vargas, would grant the commissioner of labor the power to force a contractor to halt work on a site and expedite an investigation if a violation is found to threaten public health and safety.
The bill advanced from committee but was not debated this session. It remains on general file.
Finally, LB19, introduced by Albion Sen. Tom Briese, would withhold from the public record first reports of injury to the Workers' Compensation Court with certain exceptions. The bill remains in committee.