Alternative construction method clears first round
Nebraska's largest counties and cities would be allowed to use an alternative design method for certain transportation projects under a bill advanced from general file April 29.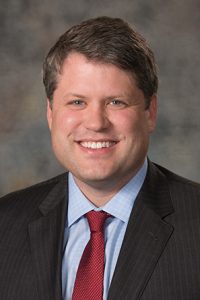 LB583, as introduced by Lincoln Sen. Mike Hilgers, would allow counties of 150,000 or more residents to use a design-build method for projects that fall under the Transportation Innovation Act. Currently, Douglas, Lancaster and Sarpy counties meet that threshold.
An amendment, offered by Hilgers and adopted 40-0, also would allow metropolitan and primary class cities to design-build transportation projects. Omaha currently is Nebraska's only metropolitan class city and Lincoln is the lone primary class city.
Currently, municipalities must contract separately with a designer and with a construction contractor, Hilgers said, but under the design-build approach, municipalities would work with one entity that would manage both design and construction. The design-build method would reduce construction time and costs, Hilgers said.
"It's a concept that combines some of the steps," Hilgers said. "It allows you to shave off a significant amount of time in the process."
Sen. John Arch of La Vista said he supported the bill because using design-build would reduce "billion-dollar surprises."
"Having that contractor at the table, as well as the architect, brings a different set of eyes," Arch said.
LB583 advanced to select file on a 40-0 vote.