Study of OPS retirement system management clears first round
Lawmakers gave first-round approval April 9 to a bill that would explore the possible transfer of management of the Omaha school retirement plan to the state.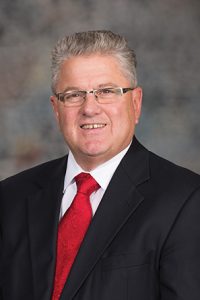 LB31, introduced by Seward Sen. Mark Kolterman, would require the Public Employees Retirement Board—in consultation with the Nebraska Retirement Systems Committee, the Omaha School Employees Retirement System board of trustees, Omaha Public Schools board of education and other stakeholders—to prepare a work plan that examines the possible transfer of management responsibilities for the OSERS plan to the PERB.
Kolterman stressed that the bill does not signal a future merger of the troubled OSERS plan with the state school retirement system. Instead, he said, it would be a first step toward possibly relieving the OSERS board of trustees of management responsibilities for the plan, much like when the state took over investment authority for the Omaha plan in 2016.
"I also want to be clear that the liability for OSERS unfunded liability—which is around $770 million right now—remains with OPS," Kolterman said. "LB31 does not change that, nor is it my intent that the state or any entity of the state would take on that liability."
Under the bill, the work plan would be required to include:
• a comparison of the annual OSERS administration costs to the estimated cost for PERB to assume management of the plan;
• identification of the tasks, issues and costs to transfer management; and
• establishment of timelines for completion of identified tasks.
The PERB would be authorized to assess OSERS for costs related to the work plan, which must be completed and submitted to the Legislature by June 30, 2020.
A Retirement Systems Committee amendment, adopted 43-0, also would:
• require that any written request from PERB for documents, data and other information be provided within 30 days;
• grant OSERS authority to bill OPS for any time or expenses it incurs in responding to requests from the PERB in completion of the work plan;
• require OPS to reimburse OSERS for work or expenses it incurs in response to PERB requests for information, documents and data related to preparation of the work plan; and
• create a fund to deposit OPS payments to OSERS for work completed by OSERS in response to PERB requests.
Following adoption of a technical amendment offered by Kolterman, lawmakers advanced LB31 to select file on a 42-0 vote.