Offutt land cession bill advanced
Lawmakers gave first-round approval Feb. 8 to a bill intended to clarify jurisdiction over five tracts of land inside the fence line of Offutt Air Force Base.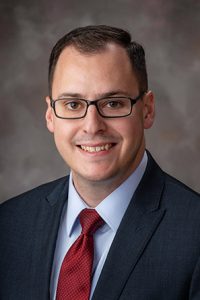 Gretna Sen. Andrew La Grone, sponsor of LB214, said the bill would provide the federal government with exclusive jurisdiction over the land, which is near two of the base's gates and under a dormitory. Currently, he said, the federal government owns the land but only has propriety jurisdiction over it.
As a result, he said, Nebraska does not own the approximately 80 acres, but the state is responsible for law enforcement on the land. This can cause confusion in emergency response situations, he said, adding that clarifying the jurisdiction would alleviate an administrative issue for the base.
The bill would cede all criminal and civil jurisdiction over the land tracts to the federal government.
"There is no property tax impact since the federal government owns this land already," La Grone said.
LB214 advanced to select file on a 37-0 vote.