Senators introduced 154 measures on the final day of bill introduction Jan. 23.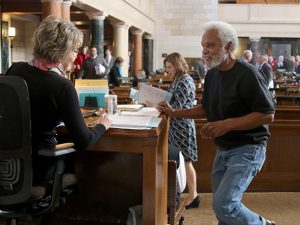 Among the proposals were:
LB589, sponsored by Omaha Sen. Ernie Chambers, which would prohibit peace officers from serving as school resource officers;
LB593, sponsored by Albion Sen. Tom Briese, which would change and eliminate provisions relating to medical assistance reimbursement claims and liens and provide for retroactivity;
LB620, sponsored by Omaha Sen. Rick Kolowski, which would provide for enforcement of handheld wireless communication devices as a primary action;
LB634, sponsored by Omaha Sen. Robert Hilkemann, which would require three-point safety belt systems for school vehicles as prescribed;
LB659, sponsored by Omaha Sen. Justin Wayne, which would remove cannabidiol from the list of controlled substances;
LB662, sponsored by Henderson Sen. Curt Friesen, which would terminate the Tax Equity and Educational Opportunities Support Act;
LB686, sponsored by Omaha Sen. Steve Lathrop, which would change provisions relating to correctional system emergencies;
LB700, sponsored by Brainard Sen. Bruce Bostelman, which would provide for decommissioning and reclamation of a wind energy conversion system;
LB706, sponsored by Omaha Sen. Brett Lindstrom, which would authorize a one-year freeze of cost-of-living adjustments under the Class V School Employees Retirement Act; and
LB720, sponsored by Seward Sen. Mark Kolterman, which would adopt the ImagiNE Nebraska Act and provide tax incentives.
A complete list of introduced bills is available at NebraskaLegislature.gov.