Day three bill introduction
Senators reconvened Jan. 11 to introduce new bills.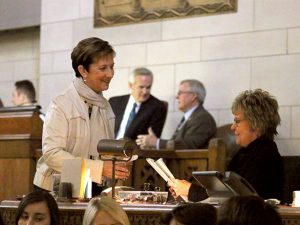 Among the 84 measures introduced were:
LB144, sponsored by Venango Sen. Dan Hughes, which would provide for voter approval of nonpartisan nomination and partisan election of county officers;
LB147, sponsored by North Platte Sen. Mike Groene, which would provide for the use of physical force or physical restraint or removal from a class in response to student behavior;
LB153, sponsored by Gordon Sen. Tom Brewer, which would change provisions relating to the taxation of military retirement benefits;
LB167, sponsored by Omaha Sen. Megan Hunt, which would prohibit conversion therapy;
LB176, sponsored by Omaha Sen. Ernie Chambers, which would eliminate certain mandatory minimum penalties;
LB184, sponsored by Henderson Sen. Curt Friesen, which would adopt the Small Wireless Facilities Deployment Act;
LB198, sponsored by Hastings Sen. Steve Halloran, which would change provisions relating to use of a deadly weapon to commit a felony and prohibit use of a facsimile firearm to commit a felony;
LB206, sponsored by Lincoln Sen. Adam Morfeld, which would protect free speech rights of student journalists and student media advisors;
LB209, sponsored by Thurston Sen. Joni Albrecht, which would require information regarding reversal of medication abortion; and
LB217, sponsored by Lincoln Sen. Patty Pansing Brooks, which would prohibit retaliation against employees for communicating about wages.
A complete list of bills introduced thus far is available at NebraskaLegislature.gov. New bills may be introduced for the first 10 legislative days, or until Jan. 23.