Session Review: General Affairs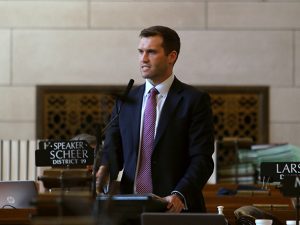 Senators considered proposals related to bottle clubs, liquor laws and gaming this year, as well as a bill related to farm building construction.
LB1120, introduced by Sen. Tyson Larson of O'Neill, makes a number of changes to the state's Liquor Control Act.
The bill also includes provisions of Sen. Theresa Thibodeau's LB747, which require licensure of private membership establishments—commonly known as bottle clubs—where members who have purchased their own alcohol congregate to consume it.
A bottle club licensee cannot hold any other license under the Nebraska Liquor Control Act and is required to close between 5 a.m. and 6 a.m. A club's private membership list will not be made public except as required by a court order, warrant or subpoena.
The bill also:
• allows Class C licensees with a bottling endorsement to increase the size of their growlers from 32 to 64 ounces;
• clarifies that the fees collected for beer shipper licenses are to be deposited in the Nebraska Beer Industry Promotional Fund;
• allows a party to apply for a rehearing when a liquor license application is denied by the Liquor Control Commission; and
• creates the Music Licensing Agency Act.
The Music Licensing Agency Act requires music licensing agencies to register with the state Department of Revenue starting Jan. 1, 2019. It also requires agencies to file an annual electronic copy of each performing rights agreement that provides for payment of royalties made available from the music licensing agency to any Nebraska proprietor.
A $10,000 fine will be imposed for each 45-day period following each Feb. 15 if a music licensing agency fails to renew a registration or engages in business without registration.
LB1120 passed 48-0.
Lawmakers changed the way keno locations handle keno revenue this session.
State law requires a keno operator to keep keno revenue separate from other revenue sources. Keno sales outlets accomplish this by keeping two bank accounts, one for keno revenue and another for all other funds.
Under LB724, introduced by Omaha Sen. Justin Wayne, a keno operator is required to keep cash receipts from the sale of keno tickets segregated from other revenue until deposited in a single nonsegregated account. The state tax commissioner may authorize the electronic transfer of keno funds from that nonsegregated account to the bank account of a lottery operator, county, city or village no later than five business days after they are collected.
The bill also requires that gross lottery proceeds be deposited into the account of the sales outlet location, lottery operator, county, city or village no later than five business days after they are collected.
The bill passed on a vote of 47-0.
Modified provisions of a bill considered by the General Affairs Committee to increase the amount of lottery funds directed to compulsive gambling assistance in Nebraska were amended into LB945. The bill was part of the budget package and passed 41-4.
The provisions, introduced by Omaha Sen. Bob Krist as LB679, increase the annual transfer from the Charitable Gaming Operations Fund to the Compulsive Gamblers Assistance Fund from $50,000 to $100,000.
Another gaming measure intended to codify fantasy sports in Nebraska law failed to advance from general file debate this session.
LB469, introduced by Larson, would have adopted the Fantasy Contests Act. The bill would have defined, licensed and regulated fantasy contest operators in Nebraska who offer cash prizes to the general public upon payment of an entry fee.
After three hours of debate, the Legislature moved to another item on the agenda. Per a practice implemented last year by Speaker Jim Scheer of Norfolk, the sponsor of a bill facing a potential filibuster was required to demonstrate sufficient support for a cloture motion for the measure to be scheduled for additional debate.
LB469 did not return to the agenda this session.
Also failing to advance from general file was a bill that would have created an exception in state electrical licensing law for workers engaged in the construction of farm buildings.
As introduced by Kearney Sen. John Lowe, LB921 would have exempted anyone employed in the construction of a farm building and doing work for which a license otherwise would be required if they are unloading, hauling or moving electrical wiring or components or if they are under the direct supervision of a licensed contractor or electrician.
A General Affairs Committee amendment would have replaced the bill and instead would have created an exception in current supervision requirements. LB921 was passed over in accordance with the three-hour policy and did not return to the agenda.