Omnibus occupational licensure bill advanced
A bill that would allow pharmacies in Nebraska to provide remote drug dispensing was amended to become an omnibus health and human services licensure measure and advanced from general file March 27.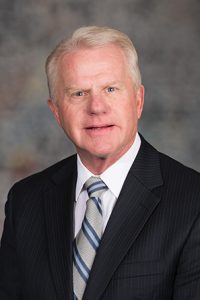 Gothenburg Sen. Matt Williams, sponsor of LB731, said the bill would improve access to prescription medications in rural and underserved areas of Nebraska. Under the bill, a pharmacy could provide remote dispensing at a location staffed by a certified pharmacy technician and owned by a supervising pharmacy licensed and located in the state.
Williams said many small, rural Nebraska communities have lost pharmacies due to retirements, leaving residents without convenient access to their prescription medications.
"LB731 provides a framework for remote dispensing to occur in Nebraska with legal requirements in place to ensure patient safety," Williams said.
Under the bill, a remote pharmacy would have to be located at least 10 driving miles from the nearest pharmacy and dispensing would occur under remote supervision via a real-time audiovisual communication system by a licensed pharmacist employed by a supervising pharmacy.
A remote dispensing pharmacy would be required to have the same pharmacist in charge as the supervising pharmacy, who would be responsible for drug utilization review, final verification and supervision of the remote dispensing pharmacy. A separate license would be required for the remote dispensing pharmacy.
A Health and Human Services Committee amendment, adopted 33-0, would prohibit a pharmacy from also being licensed as a remote pharmacy. The amendment also specifies that a pharmacist in charge would not be required to work within the physical confines of a remote dispensing pharmacy unless otherwise required by law.
The committee amendment also added provisions of four additional bills:
• LB681, introduced by Bellevue Sen. Carol Blood, which would adopt the physical therapy licensure compact;
• LB788, introduced by Ralston Sen. Merv Riepe, which would require certain providers to enroll in opiate administering and prescribing continuing education;
• LB1107, introduced by Elkhorn Sen. Lou Ann Linehan, which would reduce licensure hour requirements for barbers, cosmetologists, estheticians and nail technologists; and
• LB790, introduced by Crete Sen. Laura Ebke, which would provide for licensure of mobile cosmetology and nail technology salons.
LB681 would add Nebraska to the existing Physical Therapy Licensure Compact. Under the compact, which exists to facilitate interstate practice of physical therapy by providing mutual recognition of member state licenses for physical therapy practitioners, Nebraska would be required to:
• participate fully in the governing commission's data system;
• have a mechanism in place for receiving and investigating complaints regarding licensees;
• notify the compact of any adverse action or investigative information regarding a licensee;
• fully implement a criminal background check requirement;
• use a recognized national examination for licensure;
• establish continuing competence requirements as a condition for license renewal; and
• grant privileges to a licensee holding a valid, unencumbered license in another member state in accordance with the compact rules.
Blood said 15 states currently are compact members and eight are pursuing membership. Nebraska's inclusion in such compacts benefit military families that move frequently and include a spouse whose occupation requires licensure or certification, she said, which physical therapy does.
"Additionally, with telemedicine quickly becoming such an important tool to our medical community—especially in the underserved communities of our state—physical therapists must be able to practice across the barrier that is created by geography," Blood said.
Riepe said that provisions of LB788 would ensure that Nebraska health care providers who prescribe opioids do so in a safe and effective manner and are aware of new guidelines.
The bill would require nurse midwives, dentists, physicians, physician assistants, nurse practitioners, podiatrists and veterinarians who prescribe controlled substances to obtain five hours of continuing education regarding the administering and prescribing of opiates, including the risks and indicators of addiction and emergency opiate situations.
Thirty minutes of the education must explain the state's prescription drug monitoring program. The bill's continuing education requirements would terminate Jan. 1, 2029.
"As members of the Nebraska Legislature, we must continue to do our part to respond to this national emergency as it continues to draw closer to Nebraska," Riepe said.
An amendment offered by Seward Sen. Mark Kolterman and adopted 29-0 reduced the overall requirement from five hours to three.
Among other provisions, LB1107 contains provisions of two additional bills:
LB794, introduced by Riepe, which would remove a current ban on consuming, serving, possessing or distributing alcohol by entities operating under the Cosmetology, Electrology, Esthetics, Nail Technology, and Body Art Act; and
LB1042, introduced by Omaha Sen. Sara Howard, which would address regulation and licensure under the Act.
Linehan said the changes would reduce barriers of entry to a variety of occupations by removing burdensome, unnecessary licensure requirement involving cosmetologists, guest artists and barbers. Among other provisions, the bill would:
• reduce from 2100 to 1800 the required hours for cosmetologist licensure;
• reduce from 1900 to 1800 the licensure hours required for a barber license;
• eliminate a credit requirement for esthetician licensure;
• reduce from 925 to 600 the licensure hours beyond cosmetology licensure to be a cosmetology instructor;
• eliminate a requirement that a person must be registered to act as a guest artist, guest body artist, cosmetician, student, apprentice or student instructor; and
• change the ratio of student instructors to each full-time instructor from three to two for a school of cosmetology.
Ebke said provisions of her LB790 would allow cosmetology licensure to evolve to meet the needs of new businesses.
"Current statutes do not account for technology changes that have made mobile businesses in cosmetology feasible and the requirement in law of a fixed business location makes mobile operations impossible," she said.
Under the provisions, a motor home could be licensed as a mobile cosmetology or nail technology salon if it:
• is clearly identified as such to the public by a sign;
• has an entrance that provides safe access by the public;
• has at least 150 square feet of floor space, and an additional 50 square feet for each additional practitioner;
• includes functional sink and toilet facilities and maintains an adequate supply of clean water and waste water storage capacity;
• complies with the sanitary requirements of the Cosmetology, Electrology, Esthetics, Nail Technology and Body Art Practice Act; and
• meets the requirements of the Uniform Standard Code for Manufactured Homes and Recreational Vehicles and the rules and regulations adopted and promulgated under the bill.
No cosmetology services could be performed while a mobile salon is moving. The bill would require a mobile salon to be safely and legally parked in a legal parking space at all times while clients are present inside.
Seward Sen. Mark Kolterman offered and later withdrew an amendment that would have added provisions of his LB360 and adopt the Surgical Technologist Registry Act.
Following adoption of the committee amendment, LB731 advanced to select file on a vote of 34-0.