Greater child seat requirements advanced
Child safety seats would get more use under a bill advanced by lawmakers March 8.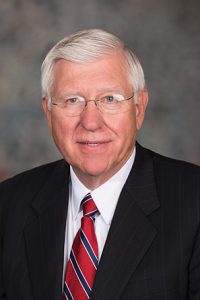 Under current law, any child up to age 6 must be secured in an approved child safety restraint device that is correctly installed in the vehicle. LB42, introduced by Omaha Sen. Robert Hilkemann, would raise this age to 8.
The device would have to be located in a vehicle's rear seat, if available. Additionally, the bill would require that all children up to age 2 use a rear-facing device until the child outgrows the device manufacturer's height or weight requirements.
Hilkemann said while some parents may do their own research into height and weight requirements for child safety seats, many do not. It is up to the Legislature to set appropriate standards, he said.
"I'm sure there are some that do but some simply put their trust in the laws of the state of Nebraska," Hilkemann said. "They accept and comply based on what this body determines is safe and with today's laws, we are doing them a disservice."
Omaha Sen. Theresa Thibodeau supported the bill, saying that a rear-facing seat lessens the physical impact of a car accident.
"Children's bones don't fully develop and they're not strong enough to hold the impact of an airbag until they've gone through puberty," Thibodeau said. "This protects the children of our state—our state's most vulnerable people."
Also supporting the bill was Sen. Lydia Brasch of Bancroft. She said the Legislature must ensure the safety of children, especially in dangerous situations.
"We do need to protect them and remind citizens of how vulnerable they are to injury," Brasch said. "It would ensure that they abide by laws that protect them for life."
The bill would impose additional unnecessary government regulations, said Bayard Sen. Steve Erdman in opposition to the bill. He said laws already do a good job in keeping kids safe.
"We already have an opportunity to restrain our kids according to the law we currently have," Erdman said. "Parents need to be able to make decisions for their own children."
Following the adoption of a technical Transportation and Telecommunications Committee amendment, senators advanced the bill to select file on a 36-3 vote.