Dissolution of learning community proposed
A bill that would eliminate the learning community in Douglas and Sarpy counties was heard by the Education Committee Feb. 26.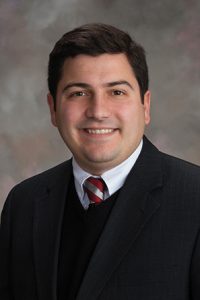 The Legislature created the learning community in 2007 to share resources among the students in the broader Omaha area to help address the achievement gap of children in the city center.
LB1033, introduced by Sen. John Murante of Gretna, would dissolve the learning community and the learning community coordinating council. The bill would allow school districts that are currently part of the learning community to form joint entities with educational service units to operate elementary learning centers and early childhood education programs and services for children in poverty.
Learning communities currently may levy up to 1.5 cents per $100 of valuation to pay for early childhood education programs and for elementary learning center employees and services. They also are authorized to levy up to half a cent for elementary learning center leases. LB1033 would transfer that taxing authority to the interlocal entities to pay for early childhood programs.
Murante said that the 2-cent levy authority is insufficient to justify an entire political subdivision with administration costs of approximately $500,000 per year. Authorizing school districts and ESUs to continue the programs currently offered through the learning community would be more efficient, he said.
"This is an example of where taxpayers and citizens of the state really feel like they were taken advantage of," he said. "I think doing away with this and allowing the local school districts to engage in interlocal agreements to do these programs themselves, I think it would get much more public buy-in."
Doug Kagan of Omaha testified in support of the bill on behalf of Nebraska Taxpayers for Freedom. He said that the learning community wastes taxpayer dollars by providing programs and services already offered by school districts and other entities.
"This bureaucracy, we believe, is unnecessary, redundant and deserves elimination," he said.
Testifying in opposition to the bill was Allen Hager of Omaha, a member of the learning community coordinating council. When he first ran for the council in 2012, Hager said, he agreed with Murante's position. But now he sees the value of the learning community's efforts to address poverty in its member school districts, Hager said.
"This is the largest and most comprehensive early childhood program in the country," he said. "It makes no sense to disrupt 11 school districts that are collaborating and all working together—as you all requested them to—in the best interest of children and families."
Samuel Meisels, executive director of the Buffett Early Childhood Institute, also testified in opposition to the bill, saying that independent evaluations demonstrate that the learning community's programs and initiatives are effective. The learning community's superintendents' early childhood plan, developed in partnership with the institute, is the largest, most comprehensive program in the nation designed to reduce income- and race-based achievement gaps for children from birth through third grade, he said.
"Economists—Nobel Prize winners—have pointed out that the best investment you can make is actually in the first three years of life, not at later stages of education," Meisels said. "This is where you get the most bang for the buck."
Keeley Bibins, an Omaha Public Schools teacher, also testified in opposition. She said the professional development training offered to teachers in the learning community has been instrumental in helping her become a better teacher. When she meets with parents, Bibins added, she can tell which ones have attended the learning community's parent university because they are more engaged in their children's education.
"It's more of a dialogue versus me just sitting there for 15 minutes telling you what your child is doing," she said. "They're actually talking to me."
Tonya Ward of Omaha, another coordinating council member, provided neutral testimony on the bill. She supports abolishing the learning community, Ward said, but LB1033 would continue what she called wasteful spending of taxpayer dollars on expensive programs that do not serve enough children in poverty.
"The learning community has no measurable outcomes that support all of the millions of dollars that [have] gone into evaluations and pilot programs and training for people who are not having a direct impact on the lives of children," she said.
The committee took no immediate action on the bill.