Temporary release of inmates for treatment considered
Inmates could receive treatment in the community on a temporary basis under a bill discussed in a Judiciary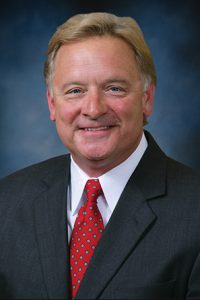 Committee hearing Jan. 17.
Currently, inmates can be released on a temporary basis to attend the funeral of a relative, contact a future employer or go to work outside a prison facility on a work-release basis.
LB676, introduced by Omaha Sen. Bob Krist, additionally would allow inmates release to seek substance abuse treatment, rehabilitative programming, residency, employment or to participate in structured programming as required by the state Department of Correctional Services.
Krist said that approximately 400 inmates are eligible for parole but cannot be released because they have not completed the necessary programming or training to qualify. Allowing inmates to complete these requirements in the community could help more people move through the Correctional System and alleviate overcrowding in prisons.
"We are approaching a point at which an emergency could be declared in a few years," Krist said. "We need to get out of the box and think more aggressively about solving the problem we have in front of us with Corrections."
Representing the ACLU of Nebraska, Spike Eickholt spoke in favor of the bill, saying some facilities simply do not offer all of the programming necessary for inmates to be released.
"If the prisons cannot provide the training, the community can," he said. "Perhaps there's no single solution to the problem, but this can be part of an incremental approach."
Doug Koebernick, inspector general of the Nebraska Correctional System, also testified in support of LB676. He said the bill has the potential to assist the department with overcrowding issues and ensure better transitions of individuals into their communities upon release.
No one testified in opposition to the bill and the committee took no immediate action on it.