Session Review: Judiciary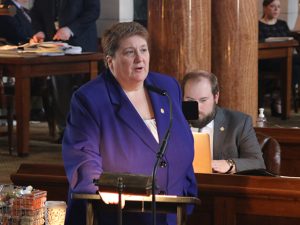 Updating criminal penalties and modernizing court procedures were among the judiciary-related priorities for lawmakers this session.
Penalties
Lincoln Sen. Patty Pansing Brooks introduced LB289, which increases penalties for a number of crimes, including pandering and human trafficking for labor or sexual exploitation, and adds solicitation to the definition of sex trafficking.
The penalties for pandering or trafficking of an adult increase from a Class III to a Class II felony, punishable by 1 to 50 years in prison.
The bill imposes even stronger penalties for sex trafficking offenses involving a minor. Previously a Class II felony, sex trafficking or solicitation of a minor now is categorized as a Class IB felony, punishable by 20 years to life imprisonment.
Provisions of three additional bills dealing with sexual assault and domestic violence are included in LB289.
The first is LB191, also introduced by Pansing Brooks, which prohibits the withdrawal of a petition for a protection order except upon order of the court. A victim of domestic abuse can file a petition and affidavit to renew a protection order up to 30 days before the expiration of the previous order to ensure there is no gap in protection. A renewed order will be effective for a period of one year, commencing on the first day following expiration of the previous order.
Provisions of LB178, introduced by Lincoln Sen. Kate Bolz, allow a victim of sexual assault to file for civil protection orders against the perpetrator. The order will prohibit a perpetrator from contacting or communicating with the victim.
Provisions of LB188, introduced by Omaha Sen. Sara Howard, allow for the parent of a child conceived as a result of a sexual assault to petition for termination of parental rights of the perpetrator.
The bill passed on a 48-0 vote.
Senators debated LB447, introduced by Omaha Sen. Ernie Chambers, which would eliminate the mandatory minimum sentences for Class IC and Class ID felonies. Currently, a person convicted of a Class IC felony is subject to a sentence of five to 50 years in prison and three to 50 years for a Class ID felony.
Those serving a mandatory minimum sentence are ineligible for the state Department of Correctional Services' "good time" program, which automatically reduces sentences by 50 percent.
Elkhorn Sen. Lou Ann Linehan introduced an amendment that replaced the bill. The amendment instead would eliminate mandatory minimum sentences only for Class IC and ID drug offenses, specifically for manufacturing between 28 and 139 grams of cocaine, heroin or methamphetamine with the intent to distribute.
The bill remains on select file.
Following the 2016 passage of a bill providing legal immunity in cases of alcohol overdose, lawmakers provided similar immunity to those witnessing drug overdoses.
Under LB487, introduced by Lincoln Sen. Adam Morfeld, a person experiencing a drug overdose and those present will receive legal immunity if they seek medical assistance and remain on the scene until assistance or police arrives. The bill does not apply to any other drug-related offense such as the manufacturing or distribution of drugs.
The bill contains provisions of several bills, including LB296, originally introduced by Omaha Sen. John McCollister, which provides civil immunity to any physician, health care professional or pharmacist who prescribes or dispenses non-patient-specific medication for response to life-threatening asthma or anaphylaxis to a school, educational service unit or early childhood education program.
Provisions added from LB293, originally introduced by O'Neill Sen. Tyson Larson, add a synthetic opioid known as U-47700 as a Schedule I drug under the Uniform Controlled Substances Act to mirror federal regulations.
Finally, provisions added from LB167, originally introduced by Crete Sen. Laura Ebke, make cannabidiol a Schedule V controlled substance.
The bill passed on a 34-5 vote.
Lawmakers passed a bill that changes how violations of juvenile probation terms are addressed.
Omaha Sen. Bob Krist introduced LB8, passed 45-0, which authorizes the Office of Probation Administration to develop a statewide matrix of immediate, certain and consistent sanctions for violations of court orders.
A probation violation will be considered resolved upon a juvenile's successful completion of the sanction. Failure to complete a sanction could result in repetition or increased duration of the sanction, or an entirely new sanction. The bill allows for detention of an individual if he or she is deemed a safety risk.
Courts
The Legislature passed several bills this session to ensure citizens' fair treatment before the court system.
Krist introduced LB10, passed 43-3, which adds one juvenile court judge in counties with populations of at least 400,000 people. Douglas County currently is the only county to qualify.
LB647, introduced by Patty Pansing Brooks, increases by 1 percent the salary of Nebraska Supreme Court justices, effective July 1. The raise will result in an annual salary of $173,694 annually. An additional 1.5 percent raise will take effect Jan. 1, 2019, increasing the justices' salary to $176,299.
The salaries of lower-court judges are tied to those of the Supreme Court justices and will increase by the same percentages.
The bill passed on a 42-1 vote.
LB259, introduced by Lincoln Sen. Matt Hansen, allows county court judges to determine competency without filing a separate civil motion in district court. It also allows city attorneys to question a defendant's competency.
The bill includes provisions of three related bills.
Those from LB145, also introduced by Hansen, require a court to determine a defendant's ability to pay a fine before imposing a jail sentence for nonpayment. If the defendant is found to be unable to pay, that court can authorize an installment payment plan or community service as an alternative to payment of the fine.
LB526, introduced by Morfeld, prohibits the detention of a debtor unless he or she is found to be willfully in contempt of court. Court appointed counsel will be required for indigent debtors in the event of a contempt hearing that could result in imprisonment.
Also introduced by Morfeld and incorporated into the bill is LB395, which requires judges to consider a defendant's ability to pay as a factor in setting bond.
LB259 passed on a 41-3 vote.
LB300, introduced by Krist, eliminates the statute of limitations for any civil action brought against a perpetrator who sexually assaults a child. Under the bill, civil action against any person or entity other than the individual perpetrator can be brought only within 12 years of the victim's 21st birthday.
The bill was passed on a 46-0 vote.
Pansing Brooks introduced LB158, which would require that legal counsel be appointed each time a juvenile court petition is filed. The juvenile and his or her parent or guardian would be informed of the right to retain such counsel as needed.
The bill also would require any legal counsel representing a juvenile to continue representation through post-dispositional proceedings unless the juvenile requests new counsel.
The bill remains on general file.
Weapons
LB478, introduced by North Platte Sen. Mike Groene, excludes possession of archery equipment and knives used for butchering, harvesting or otherwise processing game, fish or furs from the list of deadly weapons currently prohibited for convicted felons.
Possession of a knife requires that a person hold a state-issued recreational license.
The bill passed on a 46-0 vote.
Columbus Sen. Paul Schumacher introduced LB558, passed 46-0, which clarifies that the intended use of a knife with a blade longer than 3.5 inches should be considered when charging a person with possession of a deadly weapon.
Other bills
LB268, introduced by Schumacher, itemizes which assets are eligible for recovery by the state Department of Health and Human Services (DHHS). These include securities, bank accounts, intellectual property rights, contractual or lease rights and other similar types of assets.
Under the bill, a person applying for Medicaid assistance will be required to disclose all interest in real estate, trusts, corporations, limited liability corporations or other entities, as well as any income derived from them. Failure to disclose such interests will result in any received assistance being declared illegally obtained and subject to recovery by the state.
DHHS can bring an action to recover unlawfully obtained medical assistance against the estate of a Medicaid recipient within five years after his or her death and that of any remaining spouse.
If an applicant for assistance retains an interest in an asset that has been transferred to a relative for less than a commercially reasonable price, the income derived from the asset transfer also will be subject to recovery.
The bill passed on a 37-11 vote.
Pansing Brooks introduced LB122, passed 48-0, which prohibits caregivers from arbitrarily denying visitation to family members of individuals under in-home or nursing home care.
If a family member is denied visitation, he or she can petition the court to compel visitation unless the court finds that visitation is not in the individual's best interests or the individual communicates a desire to not have visitation with the petitioner.
The bill applies to a patient's spouse, adult child, adult grandchild, parent, grandparent, sibling, aunt, uncle, niece, nephew, cousin or domestic partner.
Elmwood Sen. Robert Clements introduced an amendment on select file that would have excluded domestic partners from protection under the bill. He later withdrew the amendment.
LB444, introduced by Fremont Sen. Lynne Walz, prohibits cities and counties from canceling existing health insurance coverage for any law enforcement officer who suffers serious bodily injury as a result of an assault while in his or her official capacity. The bill also covers injured sheriffs, deputy sheriffs, firefighters and mental health care providers.
Cities and counties are now obligated to provide health insurance while first responders remain employed with the agency and return to work within one year of the original injury.
The bill includes provisions of LB244, originally introduced by Lincoln Sen. Kate Bolz, which extends workers' compensation benefits to employees of the state Department of Correctional Services and DHHS who regularly and directly interact with high-risk individuals.
A high-risk individual includes a person in state custody with a history of violent or physically intimidating behavior, including a committed offender, regional center patient and a committed juvenile offender.
The bill passed on a 31-8 vote.
Omaha Sen. Burke Harr introduced LB492, passed 47-0, which allows an operator of a self-storage facility to impose a lien on all of an occupant's personal property located at the facility to recover delinquent rent, late fees and other charges related to the preservation, sale or disposition of the personal property.
Under the bill, self-storage rental agreements must include language notifying a renter of the lien and its enforcement if a renter is found to be in default for more than 45 days. The facility operator is required to give written notice to the renter of default and allow the renter an additional 45 days to pay all delinquent charges.
If the charges are not satisfied within that time frame, the facility operator may conduct a commercially reasonable sale of the personal property.
Two bills that were debated extensively in previous sessions also failed to advance from general file.
Introduced by Lincoln Sen. Adam Morfeld, LB173 would prohibit employers, employment agencies and labor unions from discriminating against employees or applicants based on their sexual orientation or gender identity. The bill would apply to employers having 15 or more employees, the state of Nebraska, governmental agencies and political subdivisions.
And LB622, a bill that would approve certain forms of cannabis for medical use, was introduced by Lincoln Sen. Anna Wishart. Cannabis is a plant that produces tetrahydrocannabinol (THC), a chemical compound known to have a variety of psychological and physiological effects on the human body.
Both LB173 and LB622 remain on general file.