Developmental disability changes amended, advanced
Lawmakers amended a bill May 16 to change provisions of developmental disability services in Nebraska.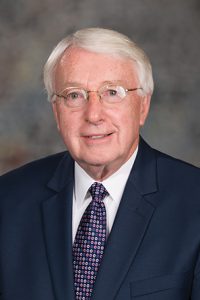 LB333, introduced by Ralston Sen. Merv Riepe, originally would have eliminated the state's short-term disability program. Those provisions were amended out of the bill on general file.
Instead, the bill includes provisions of LB495, introduced by Riepe, which would update definitions for developmental and intellectual disabilities and change the stated priorities for services to people with developmental disabilities in Nebraska.
Riepe said the changes would ensure that the state is in compliance with federal regulations. Currently, he said, Nebraska has a state-funded program that prioritizes high school graduates with developmental disabilities and enrolls them into adult day services immediately upon eligibility.
He offered a select file amendment that retains the original start date of the program for high school graduates, which he said would ensure that the entitlement would not expand.
"Without this language, the entitlement [would] be expanded to include 231 individuals who were not previously part of the entitlement. This [would be] a cost of about $8 million," Riepe said.
The amendment, adopted 36-0, also clarifies funding priorities for the state's developmental disabilities wait list under the Medicaid home and community-based services waiver.
Bellevue Sen. Sue Crawford supported the amendment, which she said would continue the state's commitment to the families of those with developmental disabilities while being compliant with federal regulations.
"It will allow us to maintain entitlement language for those students who are leaving our high schools – in our statutes – with a date of July 1, 2019, so we are sure that we can come back and make sure that those kids are taken care of," Crawford said.
The bill also contains provisions of Riepe's LB417, which would require the state Department of Health and Human Services to develop and implement a quality management and improvement plan for individuals with developmental disabilities.
The plan would rely on data gathered by independent evaluators collected from people who receive services and their families. It would be delivered to the Legislature by Sept. 30, 2017, and – beginning in 2018 – annual reports regarding outcomes and improvement priorities would be provided.
Following adoption of the Riepe amendment, LB333 advanced to final reading by voice vote.