Tax incentive for workforce housing construction advanced
Debate continued on a bill that would allow certain cities to use tax increment financing (TIF) to support the construction of workforce housing. Lawmakers advanced the bill from the first round of debate May 15.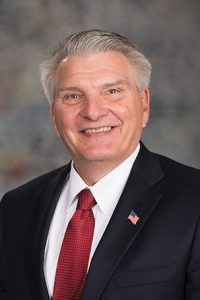 Introduced by Gering Sen. John Stinner, LB496 would authorize cities of the first and second class and villages to include the construction of single-family or multi-family housing as part of a redevelopment project eligible for tax increment financing.
The bill would require a municipality to conduct a housing study, prepare an incentive plan for the construction of housing meant for new or existing workers and hold a public hearing on the plan.
After the hearing, the municipality would be required to determine that the plan is necessary to prevent the spread of blight and substandard conditions within the municipality, will promote additional safe and suitable housing for people employed there and will not result in the unjust enrichment of any individual or company.
Stinner said the final provision would ensure that the incentive program cannot be used to pad builders' profits.
"This standard ensures that the funding is used to buy down the home price or absorb some of the risk of building spec housing," he said.
Bellevue Sen. Carol Blood supported the bill, saying that using TIF to build housing would boost economic development. She said Bellevue has used TIF for several projects — including apartment complexes, a retirement community and a business park — after ensuring that they were viable and would benefit the community.
"Whether you like it or not, [TIF] is one of the few [economic development] tools that we have," she said.
In opposition to the bill was North Platte Sen. Mike Groene. He said LB496 primarily would benefit developers and divert property taxes away from public schools, safety and infrastructure at a time when contractors do not need further incentive to build new houses.
"We have a demand for housing," Groene said. "Let the market fill it."
Sen. Steve Erdman of Bayard also opposed the bill. A 2016 state auditor's report on municipalities' use of TIF found documentation errors and other problems in many of the audited projects, he said.
"We're talking about expanding a program that has absolutely no control," Erdman said.
Stinner filed a motion to invoke cloture, or cease debate and vote on the bill. It succeeded 33-9. Thirty-three votes were needed.
An Urban Affairs Committee amendment clarifying that the proposed public hearing on a workforce housing incentive plan would be separate from the public hearing on a TIF redevelopment plan was adopted 31-5.
Senators then voted 31-8 to advance the bill to select file.