Delayed child care rate adjustment amended, advanced
Lawmakers gave first-round approval March 22 to a bill that would delay rate changes for child care subsidy providers.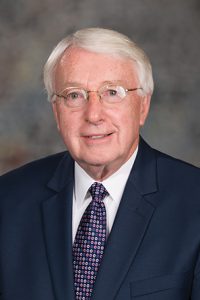 The Child Care and Development Fund Market Rate Survey is required by the federal government. Current state law requires the state Department of Health and Human Services (DHHS) to adjust the rates paid to child care subsidy providers every other year based on the survey.
LB335, introduced by Ralston Sen. Merv Riepe at the request of the governor, would eliminate implementation of any rate changes in 2017.
Riepe said the proposal is an important modification to the state's budget in light of a projected shortfall. The bill would result in a "cost avoidance" of approximately $7.4 million in fiscal year 2017-18 and $1.8 million in FY2018-19, he said, when rates otherwise would be adjusted based on current law.
"LB335 is the first opportunity for this body to discuss modifications to the budget before we discuss the actual budget," Riepe said.
Omaha Sen. Bob Krist offered an amendment that – for the next two fiscal years – would prohibit the provider rate from falling below the 50th percentile, or the rate for the immediately preceding fiscal year. Currently, the rate that child care subsidy providers receive must be between 60 and 75 percent of the market rate.
Krist said it is important to retain a floor in regard to how low provider rates are allowed to drop. Providers need to know the minimum that they are going to be paid, he said.
"How would it be if you didn't know how much money you had to deal with going into your next year?" Krist said. "I'm trying to protect those providers that are out there in this very critical area."
Omaha Sen. John McCollister supported the amendment, saying it is imperative not to let provider rates drop too low in order to ensure quality child care for subsidy recipients. The subsidy is an essential support for low-income parents as they attempt to get off of public assistance, he said.
"Maybe this is the only thing we can do at this point, but we need to recognize our commitment to these children in Nebraska," McCollister said. "It's either pay me now or pay me later, and we've often been shortsighted in our view and lived to regret it."
Sen. Sara Howard of Omaha also supported the amendment, but opposed the underlying bill. She said that the federal government will issue new regulations Oct. 1, 2018, which will require that every child who is eligible for the subsidy be able to access a child care provider that will accept that subsidy.
If providers stop participating in the subsidy program due to low rates, the state could be out of compliance, she said, which would result in the return of $30 million in federal funding.
"I hate the idea of robbing Peter to pay Paul," Howard said. "Maybe it will be ok – but when $30 million is on the line, maybe is hard to go on."
Seward Sen. Mark Kolterman spoke in favor of the bill and said he supported the concept of the amendment. He acknowledged that subsidy provider rates have not kept up with market rates over the years, but said the state's tight budget situation requires holding rates steady.
"Nobody wants to do this, but it's a necessity," Kolterman said.
The Krist amendment was adopted on a vote of 27-14.
Sen. Ernie Chambers of Omaha then offered a motion to indefinitely postpone the bill. The amount of money it would save is inconsequential in relation to the state's projected budget deficit, he said, but the harm caused could be devastating to those who rely on the child care subsidy.
"This little piece of money that you're going to get by cutting this program can be found somewhere else," he said. "There are actual people affected by the legislation that we enact."
Lincoln Sen. Mike Hilgers opposed the motion, saying killing the bill would tie the Legislature's hands. The child care subsidy is important for working families, he said, but senators need to keep all options open for potential budget adjustments. Without the bill, lawmakers would not have a means of addressing provider rates at all, he said.
"At some point, this body will be faced with the challenge of having to weigh the various priorities [of state government]," he said, noting that the Appropriations Committee budget proposal will be up for consideration in the coming weeks.
The Chambers motion failed on a vote of 3-34 and LB335 advanced to select file 31-10.