Charter school compacts proposed
The Education Committee heard testimony March 14 on a bill that would allow nonprofit organizations to operate independent public schools — also known as charter schools — in areas with underperforming schools.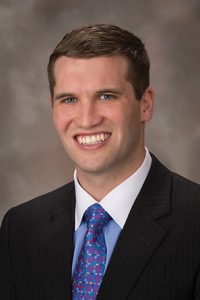 LB630, introduced by Sen. Tyson Larson of O'Neill, would create an eight-member commission to grant and oversee charter school compacts. The bill also would authorize school districts to grant and administer compacts for those schools to operate within their boundaries.
The commission could grant compacts for charter schools to operate within a school district that has at least one school performing at the lowest level established by the State Board of Education.
Larson said some schools in the Omaha Public Schools district that serve predominantly minority students have unacceptable achievement gaps. Allowing charter schools in Nebraska would give those students a chance at a better education, he said.
"We are failing kids and doing so [based] on their skin color and economic status and also doing so in the face of solutions that have been proven effective," he said. "It is time to stop putting kids last in Nebraska when it comes to this issue."
The schools, which would be open to all students through a lottery system, would be independent of any school board and managed by a board of trustees.
Each charter school would receive state aid equal to the number of enrolled students multiplied by the statewide average basic funding per formula student. The Legislative Fiscal Office estimates that if 1 percent of public school students attended a charter school this year, approximately $28.6 million in state aid would go to these independent schools.
Jason Epting, principal at Harlem Village Academies, a New York charter school, testified in support of the bill. A Nebraska native, Epting said charter schools' longer school days, tracking of student performance, teacher development, deep parent involvement and ability to choose their own curriculum set them apart from traditional schools.
Epting said it is difficult to fix failing public schools from within and that the charter school model has proven effective at helping students with the highest needs.
"Although we have a great public school system here, we should give the same excellent school system to every single kid in every single district," he said.
Clarice Jackson of Omaha also testified in support of the bill, saying that it is the Legislature's responsibility to ensure that all students, including African-American students in north Omaha, have a high-quality education.
Jackson said her daughter attended a traditional public school from pre-kindergarten to fourth grade without learning how to read. It was only when Jackson took her daughter out of a traditional setting that she was able to reach a third-grade reading level within a year, she said.
"How long do we wait for you all to figure it out and get it together?" Jackson said. "By the time you figure it out, another generation will be failed."
Margaret Raymond, director of the Center for Research on Education Outcomes at Stanford University, also testified in support of the bill. Raymond said charter schools work particularly well for minority students and students in poverty in urban areas. Charter schools have the flexibility to change their teaching styles depending on what their students need, she said, making them a better alternative than investing more money in a failing traditional public school.
"It's actually easier to create a good school from scratch than it is to take a failing school and turn it around," she said.
Testifying in opposition to the bill was Yolanda Williams, an OPS board member. She said charter schools are not needed because OPS already is working to provide school choice through magnet schools, blended learning environments, dual enrollment and other programs.
"We're really trying to make sure that our students and our families and our community are getting what they need," she said. "Do we have room for improvement? Yes, we do — but we are addressing those needs every day."
Bryan Corkle, a science teacher at O'Neill Public Schools, also testified in opposition to the bill. Corkle said charter schools skim away those students with the greatest potential and leave the majority of students behind in traditional public schools. At the same time, he said, they divert school funding away from traditional public schools that have diverse needs and stretched resources.
"LB630 ultimately jeopardizes the great promise of a quality education to all of our citizens by creating a new model for segregation of our students and sapping resources from the institutions that serve those in the greatest need," Corkle said.
Jeannette Eileen Jones-Bazansky, president of the Lincoln branch of the NAACP, also spoke against the bill. Last year the association called for a moratorium on charter school expansion until those schools are subject to the same accountability and transparency standards as public schools, she said. Jones-Bazansky said any expansion of charter schools should not be funded at the expense of traditional public schools, where most minority students would remain.
"If we open a charter school in Omaha … who is going to go?" she said. "And then what's going to happen to those who can't go?"
The committee took no immediate action on the bill.