Designation for wind-friendly counties proposed
Nebraska counties wishing to promote themselves to wind energy developers could apply for a special designation under a bill heard by the Natural Resources Committee Feb. 9.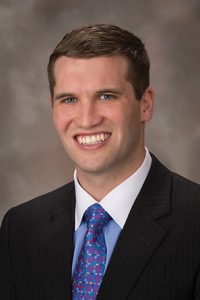 LB392, sponsored by Sen. Tyson Larson of O'Neill, would require the state Department of Agriculture to create a process, including criteria and standards, that would recognize and assist counties' efforts to create, maintain or expand wind energy development. Counties meeting the criteria could apply to a receive a "wind-energy friendly" designation.
Criteria would include the diversity of a county's energy development activities, a formal expression of interest by a county board in developing wind energy production or an assurance that the county intends to work with other governmental entities in developing wind projects.
Larson said the designation would signal investors and developers that a county is open to having a wind energy facility in the area and that a county has adopted certain zoning regulations that pave the way for development. He said he chose the Department of Agriculture to develop the process because they administer a similar program that designates livestock-friendly counties.
"I believe LB392 provides an additional tool for counties to distinguish themselves from their neighbors and promote rural economic development," Larson said.
Ken Schilz of Bluestem Energy Solutions testified in support of the bill, saying that developing the wind energy industry in Nebraska would bring money and capital to rural areas.
"The key here is to find those places around the state that are interested in this kind of development and then promoting them," he said.
Ken Winston, testifying on behalf of the Sierra Club, also spoke in support of the bill, saying the group supports the development of renewable energy. He said the designation's criteria should protect wildlife and fragile ecosystems, particularly undisturbed grasslands.
Winston also suggested that the Department of Agriculture coordinate with the state Department of Environmental Quality, state Game and Parks Commission and Nebraska Energy Office when creating the program's criteria.
John Hansen, president of the Nebraska Farmers Union, testified in opposition to the bill. He said wind energy development is a great fit for rural communities because it provides good-paying jobs and capital investment. But a wind-energy friendly designation could interfere with a community's control over the wind energy projects it chooses to develop, Hansen said.
"We strongly support local communities going through the process of planning and zoning and charting their own course," he said, "and doing it unimpeded and without being told what it is they need to have in their county in order to qualify for anything."
The committee took no immediate action on the bill.