Session Review: Appropriations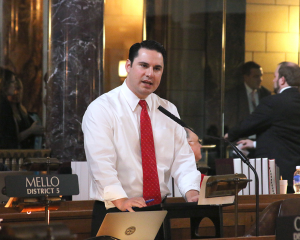 Lawmakers made adjustments to the state's two-year budget with three bills passed this session.
LB956, introduced by Kearney Sen. Galen Hadley at the request of the governor, adjusts appropriations for state operations, aid and construction programs.
The bill includes provisions, originally introduced by Syracuse Sen. Dan Watermeier as LB733, which appropriate $1.5 million in general funds this fiscal year to recruit and retain quality staff in workforce shortage areas within the state Department of Correctional Services.
In addition, $1.8 million is appropriated to address capacity and programming needs within the department while the Lincoln Community Corrections Center project is being completed.
The bill also includes provisions of LB923, originally introduced by Gering Sen. John Stinner, which appropriate $1 million in general funds to be divided equally among the state's seven federally qualified heath centers.
The bill passed on a 46-1 vote.
LB957, also introduced by Hadley at the request of the governor and passed 47-0, authorizes various fund transfers.
The bill transfers $27.3 million from the Cash Reserve Fund to the Nebraska Capital Construction Fund to cover the three-year cost of adding capacity to the Lincoln Community Corrections Center, and $13.7 million to the Military Installation Infrastructure Fund.
LB981, introduced by the Business and Labor Committee, approves claims against the state and agency write-offs.
Among the claims approved in the bill are:
• $800,000 for a tort claim against the state Department of Roads involving a vehicle accident resulting from a traffic control system problem;
• $243,000 for a tort claim against the state Department of Health and Human Services for failure to provide Medicaid coverage for medically necessary autism treatment;
• $230,000 in negotiated attorney fees to Nebraska Appleseed for a claim settled by the state regarding non-timely processing of applications for the Supplemental Nutrition Assistance Program; and
• $185,000 in negotiated attorney fees to the American Civil Liberties Union of Nebraska for a claim filed by seven couples who challenged the Nebraska constitutional prohibition against same-sex marriage.
The bill passed 46-0.
LB960, introduced by Sen. Jim Smith of Papillion, creates an infrastructure bank fund composed of three programs overseen by the state Department of Roads. The first will accelerate capital improvement projects, including the state's expressway system and other high-priority roads projects.
The second program will provide funds to repair and replace deficient county bridges and the third will finance improvements to the state's transportation infrastructure that will support new and expanding businesses.
The bank fund will receive a one-time transfer of $50 million from the state's cash reserve in July 2016. More than $400 million in state motor fuel tax generated between July 2016 and June 2033 also will be directed to the fund.
The bill also authorizes the department to hire a construction manager who will advise the department on project scheduling and to enter into contracts in which a single contractor designs and builds a project.
The bill passed 48-0.
Senators also changed several economic development provisions.
LB1093, introduced by Omaha Sen. Heath Mello, initially dealt with cash funds for tobacco prevention and stem cell research. Those provisions were replaced by amendments to include provisions of the following economic development bills.
LB1028, introduced by Sen. Adam Morfeld of Lincoln, requires the state Department of Economic Development to contract with a statewide microenterprise development assistance organization and a statewide venture development organization.
LB987, also introduced by Morfeld, creates a bioscience steering committee made up of five senators. The committee will study bioscience's impact on the state's economy, identify ways to stimulate job growth in science, technology and engineering and encourage biotechnology companies to locate in Nebraska.
LB560, introduced by Sen. Matt Williams of Gothenburg, requires the University of Nebraska's Board of Regents to report annually to the Legislature with benchmarks that lawmakers can use to evaluate the performance of the Nebraska Innovation Campus.
LB1017, introduced by Omaha Sen. Brett Lindstrom, eliminates a residency requirement for student interns under a grant program.
The bill passed on a 44-0 vote.
Lawmakers approved updates to certain administrative budget practices for state agencies.
Under LB1092, introduced by Mello, any department, office, institution or expending agency that proposes changes to its appropriation for the biennium in progress will be required to file budget forms with the office of the Director of Administrative Services (DAS). Forms must be filed by Oct. 24 of each odd-numbered year.
In addition, DAS is required to develop a certification form and procedure, to be included in each budget request, through which each department and agency will certify whether an administered program is an evidence-based program or practice. If not, the department or agency will be required to certify whether the program or practice is reasonably capable of becoming evidence based.
The bill passed 48-0.