Session Review: Education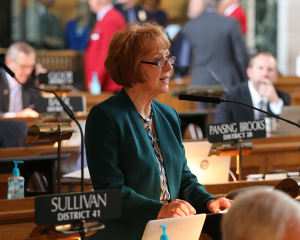 The Legislature's Education Committee considered bills this session that alter the state's school aid formula, eliminate the Omaha learning community's common levy and require high school students to take a college admission test.
School funding
Introduced by Cedar Rapids Sen. Kate Sullivan on behalf of Gov. Pete Ricketts, LB959 is intended to slow the increase in property taxes, which are the main source of funding for Nebraska's K-12 schools.
Passed 47-0, the bill eliminates the minimum levy adjustment in the state's school aid formula beginning with the 2017-18 school fiscal year. The adjustment reduces state aid to schools with a levy below $0.95 per $100 of valuation.
It also changes an averaging adjustment that provides additional state aid to some school districts with more than 900 students. The adjustment, based on formula need per student and a district's levy, has ranged from 50 percent to 90 percent. The bill calculates the adjustment at 90 percent for all qualifying districts.
LB959 also limits provisions of the Qualified Capital Projects Undertaking Fund. School districts currently can levy an additional $0.052 outside the $1.05 levy limit to fund projects related to life safety, environmental hazards, accessibility barriers and mold in existing school buildings and grounds and for new construction. New projects will be funded under a $0.03 levy and the fund may not be used for new construction.
Sullivan also introduced LB1067, passed 40-7, which repeals the 95-cent common levy and 2-cent special building fund levy for the 11 school districts in Douglas and Sarpy counties that make up the learning community.
Member districts instead will have an individual levy and will retain a 2-cent levy used for early childhood education. The bill increases the amount of state aid for school districts with a high percentage of students in poverty and provides transition aid over two years.
Under the bill, learning communities will create a plan to address achievement equity and barriers to achievement such as poverty, mobility and truancy. Districts will be eligible for additional state aid after the State Board of Education approves the plans.
The proposal will increase state aid to learning community districts by approximately $13.4 million, including $5.7 million in community achievement plan aid.
A similar bill proposing to end the learning community's common levy did not advance from committee.
LB967, introduced by Sen. Bill Kintner of Papillion, would have eliminated the Omaha learning community's common levy and special building fund levy and replaced them with individual levies in the learning community's 11 member districts.
The bill also would have eliminated the requirement that learning community school districts transport students who participate in the open enrollment program.
A bill that would have required the state to use general funds to reimburse schools for most of their special education costs was held in committee.
LB826, introduced by Sen. Al Davis of Hyannis, would have required the state Department of Education to reimburse school districts for at least 80 percent of the total excess allowable costs for special education programs and support services. Excess allowable costs are the costs to educate a student with a disability that exceed the average annual amount spent per student.
The bill would have required an additional $125 million in state general funds to reimburse school districts for those costs for FY2016-17 and an additional $152 million for FY2017-18.
Concepts of two bills intended to maintain state aid to schools for free student meals were amended into LB1066, a bill making several technical changes to education statutes.
LB1004, introduced by Omaha Sen. Tanya Cook, and LB1065, introduced by Sullivan, will help Nebraska schools implement a federal provision that allows schools with high poverty rates to provide free breakfast and lunch to all students without the need for an application.
The bill, passed 44-0, increases by 10 percent the number of students included in the state aid calculation for schools that implement the provision, helping schools maintain their state funding. It also offers schools the option of using that multiplier or the number of students who qualified for free meals in the most recent fiscal year for which data is available, whichever is greater.

Workforce development
A bill intended to increase coordination among the state's public education programs and increase enrollment in teacher education programs failed to advance from general file.
LB371, introduced by Sullivan, would have created the Nebraska Council for Educational Success. The 21-member council would have recommended to the Legislature ways to help students advance through the education system from early childhood to postsecondary school, increase enrollment in teacher education programs, align high school and college academic standards and increase parent involvement in children's education.
The bill failed to advance on a 21-21 vote, four votes short of the needed total.
A bill creating a task force that would recommend measures to increase the supply and quality of professionals providing early childhood care and education in Nebraska was held in committee.
LB773, introduced by Sen. John Stinner of Gering, would have created the Early Childhood Workforce Development Task Force. The group would have been charged with submitting a report to the Legislature outlining the state's current need for early childhood care and education workers, assessing the current system for training them and making recommendations for improving that system.
LB906, introduced by Sen. Brett Lindstrom of Omaha, authorizes a 30 percent tuition waiver for law enforcement officers who attend any state university, state college or community college in Nebraska.
Participating officers will have to maintain satisfactory job performance, meet all admissions requirements at their postsecondary institution and pursue an associate or baccalaureate degree related to a career in law enforcement.
Senators voted 46-0 to pass the bill.
A bill introduced by Lincoln Sen. Adam Morfeld failed to advance from committee. LB691 would have provided grants to Nebraska residents with financial need who are enrolled in teaching or health care undergraduate programs at Nebraska's public or private nonprofit colleges and universities.

Testing and admission requirements
Sponsored by Sen. Jim Scheer of Norfolk, LB930 requires public school students in the 11th grade to take a college admission test, such as the ACT or SAT, instead of current Nebraska State Accountability assessments.
The bill directs the State Board of Education to select the test and authorizes the state Department of Education to use lottery funds to pay for schools' expenses in administering the tests in the 2017-18 school year.
It also ends the requirement for a statewide writing assessment after the 2016-17 school year and instead requires that the statewide reading assessment contain a writing component.
The bill passed 46-1.
LB868, introduced by Omaha Sen. Bob Krist, would have required all high school students to pass a 100-question civics examination based on the U.S. Bureau of Citizenship and Immigration Services' naturalization test.
The measure did not advance from committee.
A bill that would have required Nebraska middle schoolers to be vaccinated for meningococcal disease failed to advance from select file.
LB18, introduced by Krist last session, would have added the meningococcal vaccines recommended by the U.S. Centers for Disease Control and Prevention to the required immunizations for students enrolled in Nebraska schools. Two doses would have been required under the proposed bill—one when a student enters seventh grade and another after turning 16.
Krist's motion to invoke cloture failed 29-14, ending further consideration of the bill. Thirty-three votes were needed.