Session Review: Transportation and Telecommunications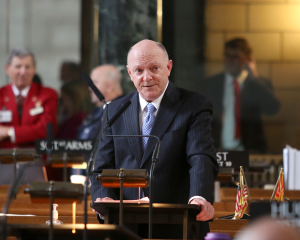 Lawmakers considered several measures this session to make roads safer for cyclists and motorists, ease restrictions on certain farm vehicles and encourage organ donation.

Licensing and administration
Papillion Sen. Jim Smith introduced LB977, passed 49-0, which exempts implements of animal husbandry—such as tractors, fertilizer spreaders and mixer-feed trucks—from weight and load limitations on Nebraska highways. The exemption does not apply to vehicles on the interstate or in any instance where such an implement crosses a bridge or culvert.
The bill contains provisions of LB996, originally introduced by Henderson Sen. Curt Friesen, which place limitations on who can own an interest in, operate or control a franchise, franchisee or consumer care facility. Excluded from such ventures are vehicle manufacturers that own or operate two or fewer dealerships in Nebraska, have owned or operated a warranty repair or service facility as of Jan. 1, 2016, or manufacture engines installed in vehicles with a gross weight rating of more than 16,000 pounds.
LB977 also contains provisions of six additional bills, including:
• LB799, introduced by Lincoln Sen. Kate Bolz, which authorizes the use of funds collected under the Nebraska Transportation Act to be used for the purchase, replacement or rebuilding of public transportation vehicles;
• LB844, introduced by Lincoln Sen. Patty Pansing Brooks, which creates a breast cancer awareness license plate to be available Jan. 1, 2017;
• LB872, introduced by Gretna Sen. John Murante, which allows vehicles operated by the state Department of Roads, as well as local authorities, to use blue and amber flashing lights when engaged in the inspection, construction, repair or maintenance of highways;
• LB918, introduced by Murante, which retains 1 percent of proceeds from the motor vehicle tax to fund the replacement and ongoing maintenance of a state vehicle title and registration system;
• LB946, introduced by Smith, which authorizes the chair of the Motor Vehicle Industry Licensing Board to modify, approve or reject any board action in which a controlling number of board members are active participants in the relevant market; and
• LB989, introduced by Murante, which decreases from 500 to 250 the number of prepaid applications required to issue a qualified organization's specialty license plate and allows for electronic renewal and replacement of commercial driver licenses.
The state requires that each motor vehicle display both a front and back license plate, with exemptions for certain vehicles. LB53, introduced by Norfolk Sen. Jim Scheer, broadens the exemption to include vehicles not manufactured to be equipped with a front license plate bracket.
Eligible vehicle owners will be issued a decal to be displayed on the lower left corner of the vehicle's front windshield. An annual $100 fee will be charged.
The bill passed on a 44-0 vote.
Farm truck and trailer registrations in counties with populations over 100,000 will display alphanumeric license plates under LB811, introduced by Bancroft Sen. Lydia Brasch. These counties include Douglas, Lancaster and Sarpy.
The bill passed on a 47-0 vote.
Sen. Ernie Chambers of Omaha introduced LB474, passed 47-0, which authorizes the production of mountain lion conservation license plates to be available in alphanumeric or personalized versions with designs supportive of Nebraska's mountain lion population. The alphanumeric plate will display up to five characters and not use a county designation.
The license plates will be available Oct. 1, 2016.
The fee for the alphanumeric plates will be $5, credited to a newly credited Nebraska Game and Parks Commission educational fund. Personalized plates will cost $40, with $10 credited to the Department of Motor Vehicles cash fund and $30 credited to the commission's educational fund.
The commission is required to use the educational fund to teach youth about wildlife conservation practices.
LB47, introduced by Syracuse Sen. Dan Watermeier, will add a question to the state driver license and identification card application forms asking applicants to indicate whether or not they wish to be an organ donor. Answering the question is optional.
The question will read: Do you wish to include your name in the Donor Registry of Nebraska and donate your organs and tissues at the time of your death?
A donor's status will remain effective until revoked or amended by the license holder. Expiration of the driver license will not change the license holder's donor status.
License and permit applicants younger than 16 are exempt from answering the organ donor question. Donors who want to specify which organs and tissues they intend to donate must contact the state's donor registry.
The bill passed on a 48-0 vote.
Motorcycles and bicycles

Introduced by Omaha Sen. Rick Kolowski, LB716 specifies that any bicyclist who is riding on a designated path that intersects with a street or highway has the right of way within the crossing if he or she follows all traffic signals.
While a cyclist has all the rights and duties of a pedestrian, he or she must yield the right of way to pedestrians when riding on a sidewalk, crosswalk or road shoulder.
LB716 also repeals a current statute commonly referred to as the "mandatory sidepath" provision. This states that whenever a usable path for bicycles has been provided adjacent to a street, a bicyclist must use the path and not the street.
The bill passed on a 38-3 vote.
Under LB900, introduced by Sen. Dave Bloomfield of Hoskins, motorcycle and moped riders 21 and older would no longer have been required to wear a protective helmet. Instead all riders would have been required to use eye protection such as goggles or a windshield.
After six hours of debate over two days, Bloomfield filed a motion to invoke cloture, or cease debate and vote on the bill. The motion failed 30-17. Thirty-three votes were needed.
The bill also would have increased the fine for operating a motorcycle without a license and prohibited anyone under the age of 8 from being a passenger on a motorcycle on public roads.
Other measures
A bill introduced by Friesen would make it possible for Omaha to adopt a rapid transit system beginning in the fall of 2018. LB735, which passed 48-0, increases the current 40-foot limit for an articulated bus operated by a transit authority to 65 feet.
Introduced by Smith, LB938 authorizes the Nebraska Public Service Commission to plan, implement, coordinate, maintain and organize funding for a statewide system capable of next-generation service. This will enable public safety answering points to receive 911 calls via voice, text or video using Internet protocol.
At least two public hearings on the plan are required. The commission will present the plan to the Legislature no later than Dec. 1, 2017, and it will be implemented sometime after July 1, 2018.
The plan will estimate the startup and ongoing costs of a statewide system and recommend the number of public safety answering points the state should maintain. The commission will ensure uniform statewide standards for technical support, training, efficiency and quality assurance at public safety answering points.
The bill also creates a fund to pay for the commission's expenses in developing the plan, estimated to be $1.1 million in fiscal year 2016-17 and another $1 million in FY2017-18.
The commission will provide an annual report to the Legislature assessing the level of wireless 911 location accuracy compliance for wireless carriers.
Senators voted 48-0 to pass the bill.