Public guardianship bill expanded, advanced
A bill intended to create public guardianships to assist individuals in applying for benefits was amended to include a variety of judicial matters and advanced from general file May 25.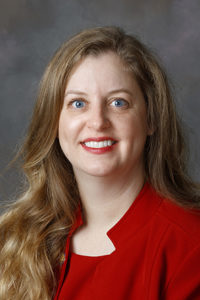 LB157, introduced by Bennington Sen. Wendy DeBoer, would create temporary guardianships to assist an individual who is applying for private or public benefits. The bill would allow the temporary guardian to access personal and financial records necessary to apply for those benefits.
DeBoer said patients sometimes wait hundreds of days for help with signing the papers needed to get them moved out of the hospital.
"These are people who are in hospital beds who are waiting to get out and the only reason they cannot is because they do not have legal authorization to do so because they don't have a guardian," DeBoer said.
A Judiciary Committee amendment, adopted 33-0, narrowed the provisions to apply only to a county containing a metropolitan class city. Omaha currently is the state's only metropolitan class city.
The amendment also added provisions of the following bills:
● LB82, introduced by DeBoer, which would update reporting requirements from the director of the state's Department of Correctional Services;
● LB315, introduced by Omaha Sen. John Fredrickson, which would prohibit providers of medical or other services related to examination of injuries arising from sexual assault, domestic assault or trafficking from referring victims to collection agencies or taking other averse action for failure to pay the debt;
● LB330, introduced by DeBoer, which would allow a successor to a decedent to endorse a check, payable to the decedent or the decedent's estate, for a debt owed to the decedent;
● LB436, introduced by Lincoln Sen. Carolyn Bosn, which would update the state Uniform Controlled Substances Act to conform with federal law; and
● LB757, introduced by DeBoer, which would extend the filing date for victims to apply for reimbursement from the Crime Victims Reparations Fund.
Bellevue Sen. Rick Holdcroft offered an amendment to the committee amendment, adopted 27-0, which would include provisions of his LB480 to add emergency medical service providers to the list of medical agencies that can file a lien on settlement awards received by injured parties.
An amendment offered by Bellevue Sen. Carol Blood, adopted 27-4, includes provisions of her LB11, which would specify that domestic abuse protection orders may explicitly provide for sole possession of a household pet and restrict contact with such pets.
Omaha Sen. John Cavanaugh also offered an amendment, adopted 31-1, which would include provisions of his LB183 to allow the District Court to waive fees related to a name change.
Finally, Wayne offered an amendment, adopted 33-0, to include provisions of his LB240 that would prohibit a juvenile court from modifying the terms of a disposition order unless the juvenile has violated a previous order or all parties agree and the juvenile has consulted with or waived counsel.
Following adoption of the amendments, lawmakers advanced LB157 to select file 34-0.