Sexual assault survivor protections advanced
The Legislature advanced a bill March 3 that would create a sexual assault survivor's bill of rights.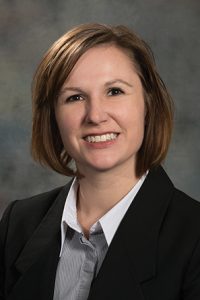 Under LB43, as introduced by Lincoln Sen. Kate Bolz, a survivor of sexual assault would be guaranteed the right to privileged consultation with a sexual assault advocate during any physical examination or interview by a peace officer, prosecutor or defense attorney.
The bill enumerates the rights available to survivors, Bolz said, without creating undo complications for health care providers and law enforcement.
"This is a bill that honors survivors of sexual assault by providing a single document that makes them aware of the rights and resources that are available to them," she said.
A Judiciary Committee amendment replaced the bill. As amended, the bill would allow a survivor of sexual assault to have an advocate present during any physical examination or interview, but the advocate could not consult with or provide legal advice to the survivor.
The amendment would require that any medical professional, peace officer, prosecutor or defense attorney provide a survivor with written documentation of his or her rights before conducting an initial physical examination or interview.
A survivor also would have the right to be interviewed by a peace officer of the gender of his or her choosing, if the request could be accommodated reasonably.
Sen. Joni Albrecht of Thurston offered a technical amendment to change the language to a peace officer of the "sex" of the survivor's choosing. She said it would provide needed clarification for law enforcement.
Omaha Sen. Megan Hunt opposed the amendment, calling it "unnecessary."
"Having the word 'gender' in this bill … does nothing to hurt [anyone]," she said. "There is no legal reason to refer to 'gender' as 'sex' here."
The Albrecht amendment failed on a 17-22 vote. Twenty-five votes were needed.
LB43 also would require a medical provider who conducts a physical exam after a sexual assault to contact the appropriate law enforcement agency, which would be required to retain any forensic evidence for 20 years.
Evidence collected from a sexual assault physical examination could not be used to prosecute a survivor for any misdemeanor crimes or offenses under the Uniform Controlled Substances Act.
Omaha Sen. Ernie Chambers supported the bill, but expressed concerns about the use of the term "survivor" rather than "victim." He said the recent social trend of moving away from the word "victim" should not overrule accepted legal language.
Following the 41-1 adoption of the Judiciary Committee amendment, senators voted 41-0 to advance the bill to select file.