Session Review: Government, Military and Veterans Affairs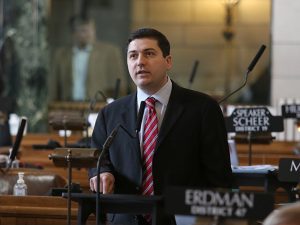 Among the issues addressed by lawmakers this session were changes to election law, state administrative procedures and occupational regulations.
Elections
LB1065, introduced by Gretna Sen. John Murante, authorizes the use of electronic poll books in all precincts in the state, beginning July 1, 2019. If provided, each EPB will contain the list of registered voters and the sign-in register for the precinct combined in one database. The EPB will include registration information and the digital signature for registered voters of the precinct.
The bill passed 34-1.
Senators also approved a measure 47-0 to extend the online voter registration deadline.
Currently, the deadline for online registration to vote in person on election day in Nebraska is the third Friday before the election. The deadline is 5 p.m. unless otherwise specified in state law. LB1038, introduced by Omaha Sen. Theresa Thibodeau, creates a deadline of midnight on that day.
Senators rejected a cloture motion during general file debate on a measure that would have asked Nebraskans to decide whether voters must show identification at the polls.
LR1CA, introduced by Murante, stalled during general file debate in 2017 when an attempt to invoke cloture and cease debate failed. The proposal was given a priority designation this year, which allowed it to be placed on the agenda again for further debate.
The measure would have placed a proposed constitutional amendment on the November 2018 general election ballot. If approved, the amendment would have required voters in Nebraska to present an ID containing a photograph or digital image prior to casting a ballot.
The Legislature would have been tasked with determining the specifics of the voter ID requirement through enabling legislation.
Murante offered a motion to invoke cloture, or cease debate and vote on the bill, which failed on a 24-18 vote. Thirty-three votes were needed.
A measure that would have excluded the state's noncitizen population from part of Nebraska's redistricting process failed to advance from general file debate this session.
The Legislature is responsible for drawing new governmental boundaries every 10 years after the decennial census for districts pertaining to the U.S. House of Representatives, Legislature, Nebraska Supreme Court, Public Service Commission, University of Nebraska Board of Regents and the state Board of Education.
Redistricting will be undertaken next in 2021.
LB1115, as introduced by Murante, would have required that the boundaries for legislative districts, state Supreme Court districts and political subdivisions be determined by Nebraska's total population as determined by the U.S. Bureau of the Census, less the noncitizen population of the state.
District lines for members of the U.S. House of Representatives would not have been subject to the bill's provisions. A Government, Military and Veterans Affairs Committee amendment would have removed state Supreme Court districts from the bill's provisions.
Murante offered an additional amendment that would have specified that if the U.S. Census asks the citizenship question in 2020, that information would have been used to obtain the count of noncitizens required in the bill. If the census did not include that information, the noncitizen estimate that the bureau compiles annually would have been used.
After several hours of debate, the Legislature moved to another item on the agenda. Per a practice implemented last year by Speaker Jim Scheer of Norfolk, the sponsor of a bill facing a potential filibuster was required to demonstrate sufficient support for a cloture motion for the measure to be scheduled for additional debate.
LB1115 did not return to the agenda this session.
Also failing to advance from general file was LR18CA, introduced by O'Neill Sen. Tyson Larson, which would have placed a proposed constitutional amendment on the November 2018 general election ballot to lower the age of eligibility for public office in Nebraska to the federal voting age, which is 18.
Currently, an individual must be at least 21 to serve in the Legislature and 30 to serve as governor, lieutenant governor or as a Nebraska Supreme Court judge.
LR18CA was passed over in accordance with the three-hour policy and did not return to the agenda.
LB817, introduced by Omaha Sen. Ernie Chambers, would have prevented a campaign committee from donating funds to another campaign committee. The bill failed to advance from committee.
Other measures
LB1119, sponsored by Ralston Sen. Merv Riepe, creates a pilot program for state employees eligible to participate in the Nebraska state health insurance program. The three-year pilot program will begin in fiscal year 2019-20 and require that the state insurance program include at least two primary care options—one high-deductible and one low-deductible—for state employees.
The University of Nebraska system, state colleges and community colleges are not included in the pilot program.
The bill includes provisions of LB604, also sponsored by Riepe, that adopt the Nebraska Right to Shop Act. The act applies to any health insurance carrier in the state that elects to be subject to it and gives the state Department of Administrative Services the discretion to develop and implement a right-to-shop program for state employees.
Participating insurers are required to develop and implement a program that provides incentives for insured individuals who opt for services from network providers that charge less than the average price paid by the insurer for a health care service. Individuals will receive at least 50 percent of the insurer's saved costs for each service chosen.
Lawmakers passed LB1119 on a 42-2 vote.
Crete Sen. Laura Ebke introduced LB299, which requires each legislative standing committee to review and analyze approximately 20 percent of the occupational regulations under its jurisdiction each year and all regulations under its jurisdiction every five years.
The bill also accelerates the process by which individuals with criminal histories can determine whether their conviction will disqualify them from obtaining an occupational license.
For occupations other than health professions, it directs committees to use the least restrictive regulation that "is necessary to protect consumers from undue risk of present, significant and substantiated harms that clearly threaten or endanger the health, safety or welfare of the public when competition alone is not sufficient and which is consistent with the public interest."
LB299 passed 45-1.
Lawmakers voted 47-1 to pass LB807, introduced by Omaha Sen. Burke Harr, which will send statues of Pulitzer Prize-winning author Willa Cather and Chief Standing Bear to be displayed at the U.S. Capitol.
The costs associated with replacing Nebraska's current statues will be covered by private donations.
Lawmakers also approved a bill that authorizes the withholding of certain public information relating to firearms.
Under current law, specific types of information may be withheld from the public unless disclosed in an open court, open administrative proceeding or meeting or disclosed by a public entity pursuant to its duties.
LB902, introduced by Brainard Sen. Bruce Bostelman, adds to those exemptions information regarding firearm registration, possession, sale or use that is obtained by a government entity for an application or permit. Such information will, however, be available to any federal, state, county or local law enforcement agency.
The bill passed 47-0.
LB1058, introduced by Hastings Sen. Steve Halloran, failed to advance from general file. The proposal would have provided the rules and procedures necessary to guide a delegation to a potential Article V delegation of the states.
As introduced, the Legislature would have elected five delegates and five alternative delegates from its membership to represent the state at a convention. Both would have been required to take an oath promising not to vote on any amendment to the U.S. Constitution that had not previously been approved by the Nebraska Legislature.
Rather than selecting state senators, a Government, Military and Veterans Affairs Committee amendment specified that the lieutenant governor, state auditor, secretary of state, state treasurer and speaker of the Legislature would have served as delegates.
Additionally, the state attorney general would have had sole authority in determining whether a vote is unauthorized. The committee amendment failed on a 20-24 vote. Twenty-five votes were required.
LB1058 was passed over in accordance with the three-hour policy and did not return to the agenda.
Under LB1129, introduced by Heartwell Sen. John Kuehn, a state employee could not have held office in a political club or party. While on state time, in his or her official capacity or using government resources of any kind, a state employee also could not have engaged in a variety of political or campaign activities.
The bill failed to advance from committee.