Session Review: Natural Resources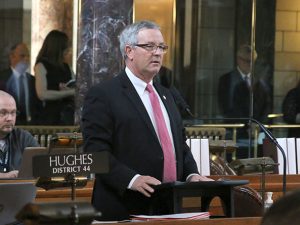 Bills dealing with renewable energy projects, wildlife management and water supply augmentation projects were among those considered by the Natural Resources Committee this session.
Water
A bill clarifying the qualifications for a program that provides financial assistance to cities to build safe drinking water projects was passed 49-0.
The previously enacted Drinking Water State Revolving Fund Act authorized the state Department of Environmental Quality to provide grants and make and forgive loans to political subdivisions that operate public water systems for safe drinking water projects.
LB182, introduced by Sen. Dan Hughes of Venango, clarifies that the department may provide loans, grants and loan forgiveness to a political subdivision if its public water system serves a population of 10,000 or less.
A bill intended to provide oversight of projects that help Nebraska meet its obligations under a multi-state agreement on water usage in the Republican River Basin was held in committee.
North Platte Sen. Mike Groene, sponsor of LB218, said the bill is aimed at providing oversight of the Nebraska Cooperative Republican Platte Enhancement (N-CORPE) project, an interlocal agency created in 2012 by four of the state's natural resources districts.
The project pumps groundwater into the Republican and Platte rivers to meet streamflow requirements under a multistate compact, which allocates the use of surface water between Colorado, Kansas and Nebraska.
Before pumping water, any future entity would be required to hold a public hearing on the need for the pumping, the governmental use of groundwater and the expected amount and duration of the pumping. After adopting a resolution on those points, the entity could buy land impacted by the pumping for fair market value and install wells and pumps.
Every five years after pumping begins, the entity would be required to hold a public hearing to review the pumping's effect on nearby landowners, the water table and other factors. After the first five years of pumping, the entity would be required to sell all or part of the land but would retain the irrigation water rights and easements to maintain the wells.
Wildlife
Nebraska will work with other states to enforce wildlife management laws under a bill introduced by the committee and passed 49-0.
LB566 enters Nebraska into the Interstate Wildlife Violator Compact. Under the compact, an officer may issue a citation for the violation of wildlife management laws to any person who lives in a participating state.
The bill includes provisions from LB635, a bill introduced by Sen. Bruce Bostelman of Brainard that increases penalties for violating certain game management laws in Nebraska.
The hunting of elk out of season is now a Class II misdemeanor, and the fine is increased from at least $500 to at least $1,000 for each violation. Any person who illegally takes game or has such game in his or her possession is now guilty of a Class III misdemeanor and will be fined at least $50 for each animal. Additionally, the fine for shooting at wildlife from a highway or roadway increased from at least $100 to at least $500.
Energy
Two bills related to wind energy development in Nebraska were held in committee.
LB504, introduced by Sen. Tom Brewer of Gordon, would create a task force to study and make recommendations to the Legislature regarding the siting of wind energy projects in the Sandhills.
The bill would place a two-year moratorium on industrial development of wind energy projects and the placement of turbines in the Sandhills beginning in 2018.
LB392, sponsored by Sen. Tyson Larson of O'Neill, would require the state Department of Agriculture to create a process, including criteria and standards, that would recognize and assist counties' efforts to create, maintain or expand wind energy development. Counties meeting the criteria could apply to a receive a "wind-energy friendly" designation.
Criteria would include the diversity of a county's energy development activities, a formal expression of interest by a county board in developing wind energy production or an assurance that the county intends to work with other governmental entities in developing wind projects.
A bill that would allow Nebraska communities to apply for a state grant to build solar energy projects also was held in committee.
LB610, sponsored by Omaha Sen. Rick Kolowski, would allow public power districts, nonprofit organizations or political subdivisions to apply for grants from the Nebraska Environmental Trust to help pay for community solar projects. The grants would cover up to 25 percent of a project's cost.
A community solar project would be defined as a solar electric generation facility that has an agreement to sell its electricity to an electric utility or political subdivision and allows subscribers to receive bill credits in proportion to the amount of energy they generate.