Session Review: Nebraska Retirement Systems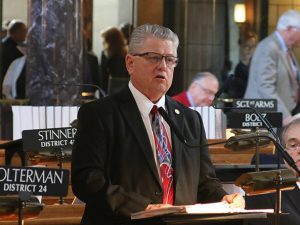 Lawmakers changed numerous provisions within the state's various retirement plans with passage of an omnibus bill this session.
LB415, introduced by Seward Sen. Mark Kolterman, changes the Rule of 85 for new hires. Beginning July 1, 2018, the minimum retirement age for school employees is 60. Under the rule, an employee may retire at age 60 if their age plus years of creditable service equal 85 or higher.
Also included in the bill are provisions of six additional measures introduced by Kolterman that make changes to the various state retirement plans, including:
• LB31, which makes changes in the school employees retirement plan related to creditable service and eliminates a school employer's ability to purchase service for individual school employees;
• LB32, which changes the frequency and method of calculation of county prior service annuity payments in the County Employees Retirement Act;
• LB110, which eliminates the obligation of political subdivisions to file annual reports on defined contribution plans after Dec. 31, 2017, and deletes the requirement for the Public Employees Retirement Board to design and provide the annual reporting form;
• LB278, which clarifies the definition of disability in the county, state and school plans;
• LB413, which makes technical and clean-up changes to the judges and state patrol retirement plans; and
• LB532, which makes changes regarding military service in the county, state, school, judges and state patrol plans.
Also included are provisions of LB219, introduced by the Nebraska Retirement Systems Committee, which updates mortality tables and inserts new language on interest rates in the county, state, judges, school and state patrol plans in response to changes in actuarial assumptions.
The bill passed 48-0 and takes effect immediately.
LB412, a bill introduced by Lincoln Sen. Kate Bolz that would require the state investment officer to review Nebraska's investments in fossil fuel companies, was considered this year and remains in committee.