Session Review: General Affairs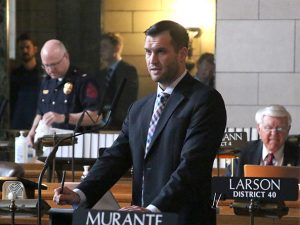 Various liquor, gaming and tobacco regulations were considered this session.
A bill containing numerous liquor law changes remains on select file. As introduced by O'Neill Sen. Tyson Larson, LB632 would make a number of changes to the Nebraska Liquor Control Act, including several impacting craft brewers. A provision that would require all alcoholic beverages purchased for resale in the state to be "at rest" at a licensed wholesale warehouse prior to distribution was amended out of the bill during general file debate.
Among other provisions, the bill also would:
• create a definition for a bottle club;
• clarify that the "at rest" requirement for distribution does not apply to farm wineries;
• remove a proposed limit on off-site retail expansion for craft brewery licensees and a requirement that retail locations engage in production;
• increase from 32 to 64 ounces the container size under a limited bottling endorsement;
• require the Liquor Control Commission (LCC) to keep track of delinquent wine and spirit retailers;
• require a third-party shipper to report to the LCC when delivering out-of-state alcohol directly to a purchaser in Nebraska; and
• expands to offenses other than compliance check violations the LCC authority to suspend a license for second and subsequent offenses.
In addition, LB632 would require a music licensing agency to register with the state and file an annual electronic copy of each performing rights agreement that provides for payment of royalties made available from the music licensing agency to any Nebraska proprietor.
The bill advanced to select file but was not scheduled for second-round debate.
Lawmakers voted to indefinitely postpone a bill that would make several changes to keno operations in Nebraska.
LB470, also introduced by Larson, would allow the use of an electronic keno ticket beginning Jan. 1, 2018. Current law requires a paper ticket. The bill also would reduce from 5 to 4 minutes the time required between keno games and permit the use of debit cards as a cash equivalent for wagers.
Omaha Sen. Ernie Chambers offered a motion to indefinitely postpone LB470 during general file debate, which was adopted 24-0, ending consideration of the bill for the session. A majority of those voting was required.
LB73, introduced by Ralston Sen. Merv Riepe, would raise the legal age from 18 to 21 to purchase cigarettes, cigars, vapor products, alternative nicotine products and smokeless tobacco. The bill was considered by the General Affairs Committee but was not advanced.