Expansion of broadband grant funding advanced
Lawmakers advanced a bill from general file April 27 meant to encourage increased broadband availability throughout the state.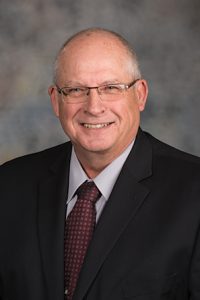 Under LB388, introduced by Henderson Sen. Curt Friesen at the request of the governor, the Public Service Commission would administer grants to providers, cooperatives and political subdivisions to fund qualifying broadband development projects.
Friesen said broadband expansion is key to helping all Nebraskans stay connected, productive and prosperous.
"Overall, the [program] prioritizes areas with the greatest need, ensures state and federal dollars will be orderly and efficiently awarded and provides for accountability through speed testing and clawback provisions," he said.
The bill would appropriate $20 million annually beginning in fiscal year 2021-22 to the commission to fund the grants. Priority would be given to grants to unserved areas that previously have not been targeted for such a project, unserved areas that are receiving federal support for construction that would not be completed within 24 months and underserved areas that have developed a broadband and digital inclusion plan.
Eligibility would be restricted to projects providing broadband internet service scalable to 100 Mbps for downloading and 100 Mbps for uploading, or greater. Each project would have a completion deadline of 18 months from the date the grant is awarded and be eligible for one extension of six months, to be approved by the PSC.
Grant applications must be submitted on or before Oct. 1, 2021, for FY 2021-2022, and on or before July 1 for subsequent fiscal years. Political subdivisions would be required to form a public-private partnership with a service provider to qualify for funding under LB388 and include matching funds equal to 50 percent of the total development costs.
If a grant recipient fails to complete a project within 18 months, 10 percent of the grant would be repaid for each month that the project is not complete, up to 100 percent of the grant. If the project is not complete despite a six-month extension, 20 percent of the grant would be repaid for each month that the project is not complete, up to 100 percent of the original funding.
LB388 would require all grant recipients to conduct randomized speed tests and submit the results to the PSC. If speeds fail to meet the bill's requirements, the provider would be required to repay the grant.
Finally, the bill would require the PSC to publish all grant applicants on its website within three days of the application deadline. Any service provider could, within 30 days, challenge an applicant's eligibility for funding if the applicant already provides broadband or has begun construction in or near the proposed area.
A Transportation and Telecommunications Committee amendment, adopted 43-0, would establish a weighted scoring system by which grant funding applications would be evaluated. The commission would judge each applicant based on their financial, technical and legal capability to deploy broadband that meets minimum speeds at competitive prices and can be scalable to higher speeds in the future.
Applicants also would be required to commit more than 50 percent of the total project development costs from sources other than grants provided under LB388.
The commission would approve grants for all qualified applicants while funding remains available, with no award to exceed $5 million. An applicant must provide broadband service for the entirety of the funding agreement. A grant recipient that fails to provide service at required speeds would have reasonable time to address the speed deficiency before funding would be withdrawn.
Speaking in support of the amended bill was Lincoln Sen. Mike Hilgers. He said the ongoing coronavirus pandemic has highlighted the importance of broadband access for people trying to work and learn from home.
"The $40 million over two years is going to have a real, significant impact for Nebraksans and [their] communities and businesses at a time when it's most needed," Hilgers said.
Omaha Sen. Justin Wayne offered an amendment to incorporate provisions of his LB656 that would allow municipalities to offer broadband service, which is prohibited under current state law.
Under the amendment, municipalities would be required to conduct a feasibility study and public hearing before deploying broadband service. Program eligibility would end on Dec. 31, 2031.
Broadband service should be considered part of the state's infrastructure, Wayne said, and should be treated similarly to the state's public power system.
"Nebraska has [historically] said that when it comes to infrastructure, shareholders' profits should not mean more than the citizens of Nebraska," he said.
Sen. Michael Flood of Norfolk supported the Wayne amendment. The state's largest telecommunications providers benefit from tax dollars, he said, but have left much of Nebraska underserved while resisting accountability and regulation.
"These are people who are taking money from the taxpayers and they are building it into their budgets and they're building their businesses with it," Flood said. "They're taking [the state] for a ride and we need to take over."
Friesen opposed the amendment, saying it would place an undue burden on municipalities that already are struggling.
"We have cities and counties that can't maintain their roads and bridges and we're going to ask them to build broadband and maintain it?" he said.
The Wayne amendment failed on a 20-24 vote.
Following the adoption of a technical amendment, senators voted 44-0 to advance LB388 to select file.