Expanded insurance coverage for certain medications considered
The Banking, Commerce and Insurance Committee considered two bills Feb. 18 designed to increase access to life-saving medication.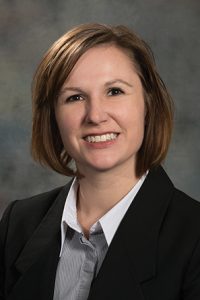 LB949, introduced by Sen. Kate Bolz of Lincoln, would require that any individual or group health insurance policy or self-funded employee benefit plan that provides reimbursement for prescription insulin limit the amount that a covered individual would pay for the drug. Under the bill, the cost of insulin could not exceed $100 for a 30-day supply.
The bill would take effect Jan. 1, 2021, and terminate July 1, 2030.
Bolz said she introduced LB949 after receiving calls from several constituents who were unable to afford insulin.
"Many in our society are forced to ration their doses or forego their medication," Bolz said.
Mark Feit, who has Type 1 and 2 diabetes, spoke in support of the bill. He said he spends more than $500 every three weeks for insulin, which does not include the cost of glucose tablets, needles, test strips and other items necessary to manage the disease.
"A Type 1 diabetic will die in as little as one day without insulin. You have an opportunity to literally help Nebraskans more easily afford to live," Feit said.
Christine Fallabel of the American Diabetes Association also supported LB949. She said the rising cost of insulin is a national crisis.
"A bottle of insulin in 1996 cost $21. Today, that same, exact vial is over $300," Fallabel said. "The chemical formulary for insulin has not changed in over two decades."
Also testifying in support was Bob Lassen, speaking on behalf of AARP Nebraska. He said a Yale University study showed that 25 percent of people with diabetes use less than the prescribed amount of insulin because of cost. One of them was Lassen's nephew, who died from the disease after not taking insulin, he said.
"He was trying to manage his condition by drinking orange juice," Lassen said.
Jay McLaren of insurer Medica testified against LB949. He said limiting a patient's out-of-pocket cost does nothing to lower the actual cost of insulin.
"This addresses a symptom," McLaren said. "This bill also does not address people who are not insured."
Robert Bell, testifying on behalf of the Nebraska Insurance Federation, also spoke against the bill. He said it is understandable that patients would want lower costs, but LB949 could have the unintended consequence of raising their insurance premiums.
"It merely shifts these costs to the insurance company, which must increase its premiums and cost-sharing limits to stay solvent," Bell said.
The committee also heard testimony on LB804, introduced by Omaha Sen. Justin Wayne, which would mandate that health insurance companies in Nebraska cover the cost of epinephrine autoinjectors—emergency allergy medication—for people younger than 19, beginning Jan. 1, 2021.
Wayne said many insurance companies already cover epinephrine autoinjectors for minors, but not all do.
"Insurance plan don't consider EpiPens a complete necessity," Wayne said.
Karla Lester testified in support of the bill. Generic epinephrine autoinjectors also are cost prohibitive for many Nebraska families, she said, and prices, as with insulin, have grown significantly in recent years.
"My husband and I are both physicians and we can easily afford EpiPens for our two children, but every time we go we think of all the families that I take care of … and who I know have to go with an expired epinephrine autoinjector or go without," Lester said.
Jeff Huether of Blue Cross Blue Shield of Nebraska testified against LB804. He said the bill is unnecessary because his company and all others in Nebraska cover epinephrine autoinjectors for patients of all ages.
The committee took no immediate action on either bill.