Sales tax turnback for water, sewer projects stalls
A bill that would turn back a portion of the state sales tax collected on water and sewer services to help cities and utilities pay for infrastructure upgrades stalled on first-round debate Feb. 10.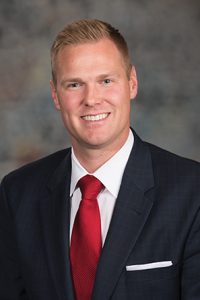 LB242, as introduced by Omaha Sen. Brett Lindstrom last session, would require the state to pay each political subdivision, sewer utility or water utility a percentage of the 5.5 percent state sales tax imposed and collected on sewer and potable water fees charged by those entities.
Under LB242, Lindstrom said, the state would partner with cities and utilities across Nebraska to modernize water and sewer systems.
Lindstrom said the state receives a sales tax windfall as cities raise their water and sewer rates to finance new infrastructure. This is especially true in Omaha, he said, where the local utility has imposed a fee to pay for a federally mandated sewer separation project.
"None of these additional revenues are currently being used to offset the underlying cost of water services," he said. "This bill provides direct income relief to the vast majority of our citizens on domestic water systems."
A pending Revenue Committee amendment would replace the bill. Elkhorn Sen. Lou Ann Linehan, the committee's chairperson, said the amendment would correct a drafting error regarding the proposed turnback rates.
The amendment would turn back 36.36 percent of state sales tax imposed on water and sewer fees from July 1, 2020, through June 30, 2021. The rate would increase to 54.54 percent on taxes imposed from July 1, 2021, through June 30, 2023. On and after July 1, 2023, the rate would be 72.72 percent.
Lindstrom said the amendment would reduce state tax revenue by approximately $8 million the first year and by more than $23 million once the highest rate goes into effect.
The funds could be used only to pay for infrastructure improvements related to constructing, upgrading, redeveloping or replacing sewer and water infrastructure facilities; to pay for the redevelopment and replacement of obsolete water or sewer facilities; or to repay bonds issued for such work.
Lindstrom introduced an amendment, adopted 25-2, that would require the state tax commissioner to certify to the state treasurer, on a quarterly basis, the amount of state sales tax revenue collected by any political subdivision, sewer utility or water utility on sewer and potable water fees and the applicable percentage that the state would pay under the turnback provisions.
Sen. Mark Kolterman of Seward supported LB242, saying it would benefit the many Nebraska communities with aging sewer and water infrastructure, especially those that are near their levy limits.
"I don't think there's a municipality in the state that doesn't have outdated infrastructure as it pertains to sewer and water," he said.
Gering Sen. John Stinner, chairperson of the Appropriations Committee, said the proposal, while well-intended, would contribute to a "constant erosion" of the state's tax base that makes it difficult to budget for priorities such as property tax relief, business tax incentives, public school funding, Medicaid expansion and prison overcrowding.
Lindstrom said he agreed that those concerns are higher priorities than LB242 and that he would not seek to advance the bill beyond select file if it does not fit within the state's overall budget.
Albion Sen. Tom Briese said he voted to advance LB242 from committee after hearing testimony that infrastructure costs have led to significant water rate increases in Omaha.
He said he now opposes the bill, however, because it would not require cities and utilities to decrease their water rates in return for providing the turnback. More importantly, Briese said, it could prevent the Legislature from providing property tax relief this session.
After three hours of debate over two days, the Legislature moved to the next bill on the agenda before voting on the committee amendment or LB242.
Per a practice implemented by Speaker Jim Scheer, the sponsor of a bill that is facing a potential filibuster must demonstrate sufficient support for a cloture motion before the measure will be scheduled for additional debate.