Stability sought for Medicaid coverage
A bill that would extend eligibility for certain health care coverage under the Medical Assistance Act was considered Jan. 29 by the Health and Human Services Committee.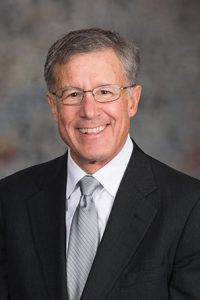 LB851, introduced by Sen. John McCollister of Omaha, would provide continuous Medicaid eligibility regardless of changes in a child's resources or income until the earlier of: the child turning 19, or the anniversary date on which the child's eligibility was determined.
The bill also would require the state Department of Health and Human Services to submit a waiver to the federal Centers for Medicare and Medicaid by Oct. 1, 2020, to provide 12 months of continuous eligibility for individuals subject to the modified gross income budgeting methodology.
Under current law, Medicaid recipients must report a change in income within 10 days, McCollister said. This rule can be difficult to comply with, he said, and can cause Nebraskans to move on and off Medicaid resulting in disrupted coverage and higher administrative costs.
"Continuous eligibility would enhance continuity of care, reduce the administrative burden for patients and providers and save the state of Nebraska administrative costs," McCollister said.
Kathy Nordby, who spoke on behalf of the Health Center Association of Nebraska, testified in support of the bill. She said continuous coverage is critical in rural areas, particularly for seasonal farm workers.
"These people aren't out-of-work engineers," Nordby said. "It's not like they are hopping from hundreds of thousands of dollars down to nothing. They're fluctuating right on that cusp of eligibility."
Sarah Maresh, testifying on behalf of Nebraska Appleseed, also supported LB851, saying it would lead to better health outcomes for patients and lower costs to the state.
"There is evidence that changes in coverage are associated with increased use of the emergency room and result in higher health care costs," Maresh said.
Jeremy Brunssen of the state Department of Health and Human Services testified against the bill. He said the waiver application required by LB851 likely would be denied because, under federal law, proposed changes must be cost neutral.
Brunssen said Medicaid costs likely would increase under the bill's provisions because some Nebraskans would receive benefits that they are ineligible for under current law.
The committee took no immediate action on the bill.