Authorized restraint, removal of students debated
Lawmakers began first-round debate Jan. 13 on a proposal that would give teachers legal protection for defending themselves and others against violent students.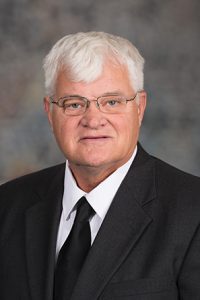 North Platte Sen. Mike Groene introduced LB147 last session and filed a motion to place it on general file, even though the Education Committee had not voted to advance it. Senators adopted the motion, which requires a majority vote of the Legislature, but the bill was not subsequently scheduled for first-round debate.
As introduced, LB147 would authorize teachers and administrators to "use the necessary physical contact or physical restraint" to control a student who becomes physically violent and to protect school property from destructive students.
The bill also would allow a teacher to have a disruptive student removed from the classroom under certain circumstances.
Groene said a 1999 Nebraska Supreme Court case determined that teachers and administrators may physically intervene to preserve order in the classroom. Putting similar language into state law would clarify that teachers can act to protect themselves and others, he said.
"[Teachers] want to be able to protect themselves and children," Groene said. "Right now, it is a free-for-all."
Groene said he has an amendment that would replace the bill. It would authorize teachers and other school personnel to use "reasonable physical intervention"to protect the student, another student, a teacher, other school personnel or another person from physical injury.
Teachers and other school personnel also could use physical intervention to secure property in a student's possession if it poses a threat of physical injury to the student, another student, a teacher, other school personnel or another person.
Additionally, the amendment would require each school district to have a policy describing a process for removing a student from a class and then returning him or her to a class.
Like the original bill, the amendment would protect teachers and other school personnel from professional or administrative discipline for using physical interventions or removing a student from a class.
It also would shield teachers, school personnel and school districts from criminal and civil liability if a physical intervention or removal was reasonable and in accordance with school policy.
Sen. Tom Briese of Albion said he would support Groene's amendment. He said it would authorize teachers to protect themselves and others while also requiring the teacher's conduct to be reasonable.
"The teacher will have to use this authority only where warranted and only to the degree that it's a reasonable response," Briese said.
Sen. Machaela Cavanaugh of Omaha opposed LB147, saying state law already authorizes teachers and administrators to defend themselves. She said the bill would not help address the root cause of problems that can lead to school violence, such as large class sizes, adverse childhood experiences and a lack of behavioral and mental health services.
Omaha Sen. Justin Wayne also opposed LB147 and filed a motion to indefinitely postpone it. He said minority students in Nebraska are five times more likely than other students to become involved in the student discipline process and therefore would be disproportionately affected by physical interventions at school.
"This [bill] will destroy the relationships between the student and teacher, parent and school, and community and school district," Wayne said.
In addition, Wayne and several other senators objected to the bill's authorization of teachers and other school personnel to use physical interventions without also requiring training in those interventions or in de-escalation techniques.
Glenvil Sen. Dave Murman supported LB147. He said he will introduce a companion bill that would require all school employees to be trained not only in physical interventions but in other areas such as behavioral supports and verbal intervention and de-escalation techniques. He said the bill would provide five years' worth of funding for such training.
After three hours of debate, the Legislature recessed for lunch before voting on Wayne's motion, Groene's amendment or the bill. Per a practice implemented by Speaker Jim Scheer, the sponsor of a bill that is facing a potential filibuster must demonstrate sufficient support for a cloture motion before the measure will be scheduled for additional debate.