Session Review: Judiciary
Lawmakers considered measures this session to ensure fair treatment for minors engaged in the court system, legalize medical cannabis and provide additional oversight of the state correctional system.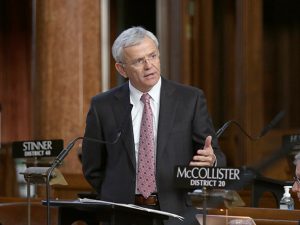 The Legislature approved an omnibus bill that makes numerous changes to current criminal justice statutes.
LB686, as introduced by Omaha Sen. Steve Lathrop, would have imposed new requirements on the Nebraska Department of Correctional Services for declaring a prison overcrowding emergency.
The bill was replaced with provisions of several additional measures, including LB91, sponsored by Omaha Sen. Justin Wayne, which allows a court to enter a deferred judgement for a person found guilty of committing a crime. Persons granted a deferred judgment instead can be placed on probation. After successful completion of the terms of probation, he or she will have their charge dismissed without the entry of judgment.
Provisions of Wayne's LB233 also are included in the bill. These prohibit a person from bringing an electronic communication device into a correctional facility or providing it to an inmate. Violation of this provision will be a Class I misdemeanor, punishable by up to one year in prison, a $1,000 fine or both.
Attorneys, public counsel employees, law enforcement and first responders are exempt from the prohibition. The NDCS director also can exempt certain staff members as necessary. Seizure of an electronic communication device is authorized.
Also included are portions of LB739, sponsored by Omaha Sen. Tony Vargas, which prohibit NDCS, after March 1, 2020, from placing a member of a vulnerable population in restrictive housing. Vulnerable populations include inmates who are younger than 18, pregnant or diagnosed with serious mental illness, developmental disabilities or traumatic brain injury.
The bill does not prevent NDCS from establishing secure mental health housing or placing vulnerable inmates in temporary segregation pending classification.
Finally, LB686 includes provisions of four additional bills:
• LB90, sponsored by Wayne, which removes a requirement for post-release supervision for Class IV felonies;
• LB240, sponsored by Lincoln Sen. Matt Hansen, which allows the state Department of Health and Human Services to contract with private facilities to provide treatment to criminal defendants found to be mentally incompetent to stand trial;
• LB262, sponsored by Bennington Sen. Wendy DeBoer, which requires the NDCS director to share the annual restrictive housing report with members of the long-term restrictive housing work group prior to release of the report; and
• LB684, sponsored by Lathrop, which allows judges to sentence a person found to have violated terms of post-release supervision to a period of incarceration equal to the length of his or her original term of post-release supervision.
The bill passed on a 46-0 vote.
Courts
Omaha Sen. Machaela Cavanaugh introduced LB532, passed 47-0, which harmonizes the application procedures for the three types of protection orders authorized under state law: harassment, sexual assault and domestic abuse.
Under the bill, if an application for a temporary protection order is dismissed, it will be dismissed without prejudice. The petition for a protection order must include the events and dates, or approximate dates, of the alleged assault or abuse, including the most recent and most severe incidents.
The court where the petition is filed can decide to issue a temporary protection order "ex parte," or without giving notice to the respondent, if the petitioner believes the respondent poses an immediate and significant safety risk.
If the court rejects an application for a sexual assault or domestic abuse protection order, LB532 requires that an evidentiary hearing be held within 14 days. The court will be required to admit the original petition and affidavit into evidence. The petitioner for a protection order cannot be found to be in violation of his or her protection order.
Senators supported an effort to increase transparency in the use of jailhouse informants this session.
Under LB352, introduced by Lincoln Sen. Adam Morfeld, if a prosecutor intends to use the testimony of a jailhouse informant, he or she is required to provide certain information to the defense regarding the informant's history.
A prosecutor who offers any benefit or plea deal to a jailhouse informant first is required to notify any victim of a crime committed by the informant. The bill passed on a 48-1 vote.
Lawmakers also approved several measures this session to protect the rights of juveniles engaged in the criminal justice system.
LB354, introduced by Lincoln Sen. Patty Pansing Brooks, requires that any juvenile's record be sealed automatically upon satisfactory completion of diversion, mediation, probation, supervision or other treatment program.
Under the bill, a juvenile's record will be sealed automatically if no charges are filed or if the charges are dismissed. If a record is not automatically sealed, the juvenile or his or her parent can file a motion to have it sealed six months after the case has been closed or when the juvenile has reached the age of majority, whichever is sooner.
The bill allows the state court administrator to permit viewing of a sealed record for bona fide research. LB354 passed on a 46-0 vote.
Omaha Sen. Tony Vargas sponsored LB478, passed 46-0, which makes a victim's consent inadmissible in any civil case alleging sexual penetration when a perpetrator is 19 or older and the victim is younger than 16. It also makes inadmissible a victim's consent in a civil case alleging sexual contact when a perpetrator is 19 or older and the victim is younger than 15.
Under LB231, introduced by Pansing Brooks, legal counsel would be appointed each time a juvenile court petition is filed. The juvenile and his or her parent or guardian would be informed of the right to retain such counsel as needed.
LB231 was advanced to general file by the committee but was not scheduled for debate.
The use of restorative justice programs in Nebraska was expanded by lawmakers this session.
LB595, introduced by Thurston Sen. Joni Albrecht, specifies that any restorative justice agreement reached between parties is considered confidential. It makes any admission, confession or incriminating information obtained through a restorative justice program inadmissible as evidence against a juvenile—except as rebuttal or impeachment evidence—in any future juvenile adjudication or criminal proceeding.
The bill also changes membership of the 15-member dispute resolution advisory council to include a district court judge, county court judge and juvenile court judge, as well as representatives from the Office of Parole Administration, Nebraska State Bar Association and Nebraska County Attorneys Association.
LB595 passed on a 47-0 vote.
LB300, sponsored by Lathrop and passed 43-0, increases Nebraska Supreme Court judges' salaries for fiscal year 2019-20 and FY2020-21. The current salary is $173,693.
District, county, juvenile, appellate and workers' compensation court judges' salaries statutorily are based on a percentage of the Supreme Court judges' salaries and will be adjusted accordingly. Salaries will increase by 3 percent each fiscal year, totaling $181,588 in FY2019-20 and $187,036 in FY2020-21.
Lathrop also introduced LB309, passed 46-0, which adds one district court judge, increasing the number in Douglas County to 17.
Certain legal motions are eligible for immediate appeal under LB179, sponsored by Lincoln Sen. Mike Hilgers. The bill makes an order denying a motion for summary judgment eligible for immediate appeal if the motion is based on an assertion of sovereign immunity or the immunity of a government official. The bill passed 43-0.
An effort this session to repeal Nebraska's death penalty failed to advance from general file.
The Legislature abolished the death penalty in 2015, overriding a veto by Gov. Pete Ricketts. Voters then rejected the repeal measure in the 2016 general election, maintaining capital punishment in Nebraska.
LB44, sponsored by Omaha Sen. Ernie Chambers, would replace death penalty provisions with a sentence of life without the possibility of parole. The bill would apply retroactively to inmates currently serving capital punishment sentences.
Senators voted 17-25 on the advancement of LB44 to select file, eight votes short of the number required.
Law enforcement
Gordon Sen. Tom Brewer sponsored LB154, which directs the Nebraska State Patrol to conduct a study of missing Native American women and children.
The study will be conducted in conjunction with the state Commission on Indian Affairs, tribal and local law enforcement, federally-recognized tribes and urban Indian organizations. The Nebraska State Patrol will submit a final report of its findings to the Executive Board of the Legislature by June 1, 2020.
The bill passed on a 45-0 vote.
LB390, introduced by Pansing Brooks, requires the state Department of Education to distribute a model memorandum of understanding to govern the use of school resource officers or security guards by Dec. 1, 2019. Any law enforcement agency providing school resource officers will be required to adopt an MOU with the school district by Jan. 1, 2021.
The MOU will include training requirements for all school resource officers or security guards employed by a district as well as at least one administrator. A school district is required to maintain records of each student referral for prosecution by a school resource officer, including the reason for each referral and federally identified demographic characteristics of each student.
The bill passed on a 48-0 vote.
The committee considered a proposal that would govern how Nebraska law enforcement agencies enforce immigration policies.
The director of U.S. Immigration and Customs Enhancement currently can delegate immigration enforcement functions to state and local law enforcement officers who receive appropriate training and operate under the supervision of ICE officers.
LB369, sponsored by Vargas, would require a law enforcement agency or jail that enters into such an agreement with any other public agency to investigate, interrogate, detain, detect or arrest people for immigration enforcement purposes to provide written notification to the governing body of its political subdivision at least 30 days before entering into the agreement.
The bill was advanced to general file but was not scheduled for debate.
Penalties
Senators approved a bill to extend and eliminate certain statutes of limitation for labor and sex trafficking.
LB519, introduced by Peru Sen. Julie Slama, eliminates a statute of limitation for creation of child pornography or labor or sex trafficking of a minor.
The bill increases the statute of limitations from three years to seven for labor or sex trafficking of an adult. It extends the statute of limitations for possession of child pornography to seven years, or seven years beyond a victim's 18th birthday.
It also allows law enforcement to apply for wiretap authorization to intercept electronic communications relating to labor or sex trafficking of adults and minors.
The measure includes provisions of four additional bills.
LB517, originally introduced by Pansing Brooks, enumerates the types of damages a trafficking victim may recover for physical and mental pain and suffering, the reasonable value of medical care and supplies, transportation, housing, child care, lost wages and potential relocation costs.
Pansing Brooks also introduced LB516, which requires DHHS to collect and report information on the trafficking of minor children and expands the definition of child abuse to include placing a child in a situation to be sexually abused or exploited. It also expands the definition of out-of-home child abuse to include cases where the perpetrator of such abuse is not a member of the victim's household, no longer has access to the victim or is unknown or cannot be identified.
Finally, portions of LB479, introduced by Lincoln Sen. Anna Wishart, prohibit a law enforcement officer from using consent as a defense for sexual contact with a person who is detained or in custody. The provisions also codify that any person detained by law enforcement is not able to consent to sexual contact.
LB519 passed on a 46-0 vote.
Omaha Sen. Justin Wayne sponsored LB496, which makes witness, informant or jury tampering a Class II felony when the underlying criminal charge is a Class II felony or higher. A Class II felony carries a penalty of one to 50 years in prison.
The tampering penalty is a Class I misdemeanor when the underlying criminal proceeding alleges a Class II misdemeanor or lower, or a violation of a city or village ordinance. A Class I misdemeanor carries a penalty of up to one year in prison, a $1,000 fine or both.
The bill passed on a 48-0 vote.
Lincoln Sen. Adam Morfeld introduced LB630, which creates the offense of distributing a private image of another person's intimate area or of a person engaged in sexually explicit conduct.
A person who violates this provision will be charged with a Class I misdemeanor for a first offense. Second and subsequent offenses are a Class IV felony, punishable by up to two years in prison with 12 months post-release supervision, a $10,000 fine or both.
LB630 also creates the offense of threatening to distribute intimate images with the intent to intimidate, threaten or harass a person. Violation of this provision is a Class I misdemeanor.
The bill provides an affirmative defense for juveniles who possess a visual depiction that was knowingly and voluntarily provided by another juvenile who is within four years of age of the defendant. LB630 passed on a 47-0 vote.
A victim of the intentional or threatening distribution of intimate images could seek damages under LB680, sponsored by Bennington Sen. Wendy DeBoer and passed 47-0. The bill allows a prevailing plaintiff to recover economic and noneconomic damages proximately caused by a defendant, including damages equal to any monetary gain made by the defendant and for emotional distress.
If actual damages cannot be quantified, the court can award reasonable presumed damages—not to exceed $10,000—against each defendant. LB680 also holds internet service providers liable only if actively involved in the creation or distribution of the prohibited material.
Correctional system
Omaha Sen. Machaela Cavanaugh introduced LB690, which prohibits the use of restraints on a pregnant prisoner or detainee unless she poses an extraordinary flight or security risk.
Under the bill, if restraints are used on a pregnant prisoner or detainee, it must be in the least restrictive manner necessary. The administrator of the detention facility must notify relevant medical staff of the risks and dangers of removing the restraints from the specific prisoner or detainee.
A detention center administrator also must document the extraordinary circumstances that necessitated the use of restraints within 10 days of an incident. Restraints are to be removed immediately if a health care professional treating a pregnant woman requests it, and restraints are prohibited without exception during active labor or childbirth.
LB690 also allows a prisoner or detainee who is improperly restrained to bring a civil action under the Political Subdivisions Tort Claims Act or the State Tort Claims Act.
The bill passed on a 41-0 vote.
LB443, introduced by Omaha Sen. John McCollister and passed 32-9, requires that any communication between an inmate and attorney through telephone or videoconferencing be provided without charge to the inmate. The bill also prohibits recording of the communication by the correctional institution or a law enforcement agency.
Other measures
A bill that requires medical professionals to provide additional information to women seeking abortions passed this session.
LB209, introduced by Thurston Sen. Joni Albrecht, requires medical providers to inform a woman seeking an abortion that the first of two drugs administered during a medical abortion—mifepristone—is not always effective in ending a pregnancy.
In addition to other information already required under existing law, the bill requires a provider to inform a woman that if she changes her mind and wants to continue a pregnancy after taking mifepristone, she may consult the DHHS website.
The bill directs DHHS to publish information on the agency's website about the effectiveness of mifepristone in ending pregnancy as well as contact information for medical assistance.
DHHS will collect data from medical providers every time a woman attempts to continue a pregnancy after taking an initial dose of mifepristone. The data collected will include the woman's age, facility location, name of the attending physician, any complications experienced and other relevant medical information.
The information will be included in the annual DHHS report on abortion in Nebraska.
LB209 also includes provisions of LB13, originally sponsored by Bellevue Sen. Carol Blood and considered by the Revenue Committee, which exempts breastfeeding from the state's public indecency statutes.
The bill passed on a 36-12 vote.
The removal of an obsolete provision in the state constitution will be placed on the ballot for voters' consideration under LR1CA, introduced by Omaha Sen. Justin Wayne and passed 44-0. The measure will place a proposed constitutional amendment on the November 2020 general election ballot to remove an exemption that prohibits slavery and indentured servitude except as punishment for people convicted of a crime.
Lincoln Sen. Matt Hansen sponsored LB433, which requires landlords automatically to provide the balance due on a security deposit to a tenant within 14 days of termination of a rental agreement.
If a landlord fails to return a security deposit within 14 days, the tenant can recover any property or money due to him or her, as well as liquidated damages equal to one month's rent plus costs and reasonable attorney's fees.
If a government entity deems a residence to be uninhabitable due to negligence, the tenant is not liable for any damage as a direct result of forcible removal.
The bill also includes provisions of Hansen's LB434, which extend the period of time for payment of rent after a notice of intent to terminate from three to seven days. A tenant can recover liquidated damages equal to one month's rent or twice the amount of the security deposit—whichever is less—if the landlord's failure to return the security deposit was willful and in bad faith.
Landlords must remit any unclaimed security deposit to the state treasurer for disposition under the Uniform Disposition of Unclaimed Property Act if returned undeliverable or if the deposit remains outstanding 30 days after the initial mailing.
The bill passed on a 39-1 vote.
A bill to approve certain forms of cannabis for medical use failed to advance from general file.
LB110, introduced by Lincoln Sen. Anna Wishart, would create a framework for legalizing medical cannabis use in Nebraska. After three hours of debate, the Legislature adjourned for the day before voting on the bill or the pending amendments. Per a practice implemented by Speaker Jim Scheer, the sponsor of a bill that is facing a potential filibuster must demonstrate sufficient support for a cloture motion before the measure will be scheduled for additional debate.
A bill that would protect employees from discrimination based on sexual orientation and gender identity also failed to advance from general file.
Introduced by Lincoln Sen. Patty Pansing Brooks, LB627 would prohibit employers, employment agencies and labor unions from discriminating against individuals based on their sexual orientation or gender identity. Discrimination based on race, color, religion, sex, disability, marital status and national origin currently is prohibited.
LB627 would apply to employers with 15 or more employees or with state contracts regardless of the number of employees, the state of Nebraska, governmental agencies and political subdivisions.
Debate ceased on the bill per the three-hour policy and LB627 did not return to the agenda this session.
Finally, a bill intended to allow safe transport of firearms throughout the state was considered by the committee but not advanced.
LB54, introduced by Kearney Sen. John Lowe, would allow a person to transport a legally possessed firearm as long as it is unloaded and stored in a case. The bill remains in committee.