Expanded informed consent for abortion stalls
A bill that would require medical providers to provide additional information to women seeking abortions stalled on general file April 29.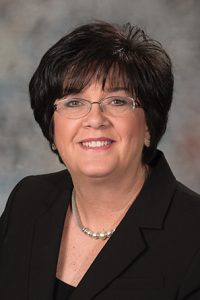 LB209, as originally introduced by Thurston Sen. Joni Albrecht, would require medical providers to inform a patient seeking an abortion that it may be possible to reverse a medical abortion if the patient changes her mind.
A Judiciary Committee amendment, adopted 39-3, replaced the bill. As amended, medical providers would be required to inform a woman seeking an abortion that the first of two drugs administered during a medical abortion—mifepristone—is not always effective in ending a pregnancy.
The committee amendment represents a compromise, Albrecht said, that would give every woman the option of continuing a pregnancy if she wishes to pursue it.
"[The compromise] was the result of a lot of hard work between people who have an interest in making sure that any woman who changes her mind after starting a medication abortion knows that it may not be too late and that she can talk to a medical professional who can help her," she said. "Its purpose is to ensure that every woman receives the information she needs and deserves to make a truly informed and voluntary decision."
In addition to other information already required under existing law, the committee amendment would require a provider to inform a woman that if she changes her mind and wants to continue a pregnancy after taking mifepristone, she may consult the state Department of Health and Human Services' website.
The amendment would direct DHHS to publish information on the agency's website about the effectiveness of mifepristone in ending pregnancy as well as contact information for medical assistance should a woman change her mind and wish to continue a pregnancy after taking mifepristone.
Blair Sen. Ben Hansen supported the bill. Informed consent legislation like LB209 ensures that a patient understands the treatment they are receiving, he said, including the risks and benefits to their health.
"This is making sure that the patient understands where they can get information about a reversal to a treatment that they [once pursued]," Hansen said. "Not only is it very important for the patient-doctor relationship, but also for the child that is involved."
Omaha Sen. Sara Howard introduced an amendment, adopted 35-0, that would require DHHS to collect data from medical providers every time a woman attempts to continue a pregnancy after taking an initial dose of mifepristone. The data collected would include the woman's age, facility location, name of the attending physician, any complications experienced and other relevant medical information.
The information collected under the Howard amendment would be included in the annual DHHS report on abortion in Nebraska.
Sen. Megan Hunt of Omaha introduced a motion to recommit LB209 to the Judiciary Committee. A woman who decides she no longer wants an abortion should be treated with compassion, Hunt said, but directing her to speak to a stranger at a hotline or listed on a DHHS website is "irresponsible."
"What we're telling women is that their doctor is not who they should turn to when something has changed for them," she said. "This bill says that the Legislature doesn't trust Nebraska doctors who provide reproductive health care and we don't want women in Nebraska to trust them."
Expressing concern about the accuracy of the potential language featured on the DHHS website, Lincoln Sen. Anna Wishart urged caution in advancing the amended bill in its current form. She said she was willing to work on an amendment to improve the information provided.
"We have worked hard with the amendments we've put in place to ensure that this bill is as medically accurate as possible," Wishart said. "I have concerns that we're [not] following that same level of prudence in terms of making sure that [the] website is as medically accurate."
After three hours of debate, the Legislature moved on to the next item on the agenda without voting on LB209 or Hunt's motion. Per a practice implemented by Speaker Jim Scheer, the sponsor of a bill that is facing a potential filibuster must demonstrate sufficient support for a cloture motion before the measure will be scheduled for additional debate.