Statewide regulations for small wireless facilities advanced
Lawmakers gave first-round approval April 23 to a bill that would give wireless companies the right to place small cell wireless facilities in public rights of way.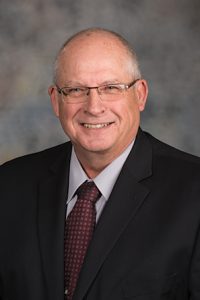 The facilities are short-range cellular nodes needed to support fifth-generation wireless technology, or 5G, in high-traffic areas.
Henderson Sen. Curt Friesen, sponsor of LB184, said the bill would encourage wireless companies to accelerate their deployment of 5G in Nebraska by providing for reasonable fees, access to the public right of way and a uniform permit application process in cities across the state.
"Instead of a few hundred different sets of rules, they want some common-sense uniformity in terms of requirements, reviews and approval," he said.
A Transportation and Telecommunications Committee amendment, adopted 32-1, would replace the bill. Under the amendment, a political subdivision, or authority, could require wireless providers to apply for and obtain permits to collocate, or attach, small wireless facilities to wireless structures and utility poles and to install, modify or replace a utility pole associated with a small wireless facility in the public right of way.
The bill would give wireless providers the right—as a permitted use not subject to zoning review or approval—to collocate small wireless facilities and install, maintain, modify, operate and replace utility poles within the right of way as long as they do not obstruct or hinder usual travel or public safety on the right of way or obstruct its legal use by utilities.
The application fee to collocate small wireless facilities on an existing or replacement authority pole could not exceed $500 for up to five small wireless facilities on the same application and $100 for each additional small wireless facility on the same application. The rate to collocate a small wireless facility on an authority pole could be no more than $20 per pole per year.
The application fee for the installation, modification or replacement of a utility pole and the collocation of an associated small wireless facility could not exceed $250 per pole.
A provider could file a consolidated application for up to 30 individual small wireless facilities if the population of the authority's jurisdiction is 50,000 or more or up to five individual facilities if the population is less than 50,000.
An application would be deemed approved if the authority fails to approve or deny it within 90 days of its receipt.
An authority could require a wireless provider to repair damage to the right of way caused by the provider's activities. Providers also would be required to remove any small wireless facility that is not operated for a continuous period of 90 days after the initial installation.
Sen. John McCollister of Omaha supported LB184. He said Nebraska risks falling behind 14 other states that have passed similar legislation, including Arizona, Colorado and Texas.
"With wireless infrastructure so critical to business investment," he said, "not passing this legislation could put Nebraska at a competitive disadvantage not only locally but in the entire region."
Omaha Sen. Machaela Cavanaugh opposed the bill, saying it would benefit large wireless companies at the expense of municipalities and consumers. She said the proposal is overly prescriptive and removes municipalities' ability to negotiate contracts with providers.
"If municipalities want to have small cell wireless in their communities, they will negotiate contracts that will result in that," Cavanaugh said. "I think this is an overstep and overreach of the state government."
Senators voted 35-1 to advance the bill to select file.