Eminent domain compromise advances
Landowners would have the ability to contest the use of eminent domain by renewable energy developers under a bill that advanced to select file April 17.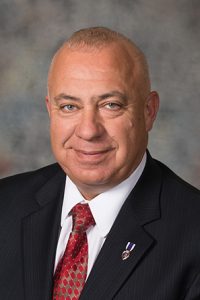 As introduced by Gordon Sen. Tom Brewer, LB155 would have prohibited a private entity from using eminent domain to provide access to build transmission lines or other infrastructure related to a privately developed wind energy project.
Currently, state law authorizes the use of eminent domain in those situations because it is considered a public use.
Brewer introduced an amendment that would define the public use aspect of such exercise of eminent domain as a "rebuttable presumption"—meaning that it could be challenged in court by an impacted landowner.
"I would think all of us would, at the very least, want to have our day in court before a private company can take our land," Brewer said. "The people get to have this status under the compromise."
On Feb. 27, LB155 failed to advance from general file on a 23-8 vote—two votes short of the number required.
The bill was given a priority designation by Elmwood Sen. Robert Clements, which allowed it to be placed on the agenda for further debate.
Sen. Patty Pansing Brooks of Lincoln said the proposed amendment "wasn't perfect" but that it strengthened the bill and helped broker compromise between the two sides.
"The [new] language makes it stronger for landowners," Pansing Brooks said.
Bennington Sen. Wendy DeBoer supported the amendment, saying the Legislature is not nimble enough to respond quickly to issues of eminent domain. That authority is better exercised by the courts, she said.
"Every piece of land is completely unique. It's not like a coffee cup where typically you can substitute one for another," DeBoer said. "Land is not substitutable so we must protect land-owner interests, and we want to have a way also to be limber enough to accommodate public utilities and their use of eminent domain in those rare circumstances where it is important."
Sen. John McCollister of Omaha initially opposed LB155 but felt the amendment did enough to bring the two sides together.
"We may not be singing 'Kumbaya', but we did come up with an acceptable arrangement," McCollister said.
Lawmakers voted 37-1 to adopt the Brewer amendment and 40-1 to advance the bill to select file.