Extended statutes of limitation considered
A bill that would extend and eliminate certain statutes of limitation for labor and sex trafficking was considered March 13 by the Judiciary Committee.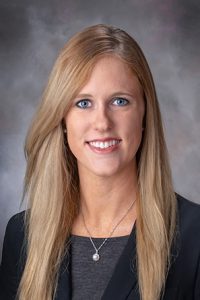 LB519, introduced by Peru Sen. Julie Slama, would eliminate a statute of limitation for creation of child pornography or labor or sex trafficking of a minor.
Approximately 47 Nebraska school girls are trafficked each year through exploitation by force, fraud, coercion and deception, Slama said.
"We need to be able to help the victims of human trafficking and allow them time to heal and feel comfortable about reporting the crimes that occurred against them," she said. "We also need to ensure law enforcement has the tools necessary to crack down on human trafficking."
The bill would increase the statute of limitations from three years to seven for labor or sex trafficking of an adult. It also would extend the statute of limitations for possession of child pornography to seven years, or seven years beyond a victim's 18th birthday.
Finally, LB519 would allow law enforcement to apply for wiretap authorization to intercept electronic communications relating to labor or sex trafficking of adults and minors.
Anna Brewer, speaking on behalf of the state attorney general's office, spoke specifically in support of the bill's proposed authorization of law enforcement wiretapping. She said sex traffickers often use electronic devices to advertise the sale of children and vulnerable adults, communicate with buyers and control the people they exploit.
"Being able to intercept these communications will enable law enforcement officers to collect and prove, or disprove, disrupt and dismantle the criminal enterprises that engage in human trafficking," Brewer said.
Meghan Malik also spoke in support of the bill. Trafficking survivors suffer severe physical and emotional abuse, Malik said, and may not pursue justice promptly due to fear of retaliation by their traffickers or confusion over complicated legal proceedings.
"Unfortunately, the option for justice is often unavailable to survivors in Nebraska because our current statute of limitations [prevents] survivors from pursuing legal action if they were victimized more than three years ago," she said. "LB519 will increase opportunities for justice and offender accountability, as well as provide law enforcement tools for investigation and prosecution of traffickers."
Spike Eickholt, representing the Nebraska Criminal Defense Attorneys Association, opposed the elimination of certain statutes of limitation, saying that they serve a distinct purpose.
"[Statutes of limitation] provide some sense of finality … that a person can move on with their life and are no longer in danger," Eickholt said. "At some point the person ought to be free from risk of prosecution."