Sexual assault survivor protections sought
The Judiciary Committee heard testimony Feb. 22 on a bill that would create a sexual assault survivor's bill of rights.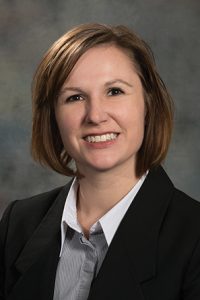 Under LB43, introduced by Lincoln Sen. Kate Bolz, a survivor of sexual assault would be guaranteed the right to consult with a sexual assault advocate during any physical examination or interview by a peace officer, prosecutor or defense attorney.
Bolz said the bill does not create new rights, but articulates the rights that survivors already have.
"Learning more about what resources are available and steps to take following sexual violence can help calm victims in a difficult time and may increase and encourage reporting," she said. "LB43 offers consistent guidelines for providing the support and information that should be offered to every victim of sexual assault."
The bill would require that any medical professional, peace officer, prosecutor or defense attorney provide a survivor written documentation of his or her rights before conducting an initial physical examination or interview. A survivor also would have the right to be interviewed by a peace officer of the gender of his or her choosing, if the request could be reasonably accommodated.
A medical provider conducting a physical exam after a sexual assault would be required to contact the appropriate law enforcement agency and the agency would be required to retain any forensic evidence for 20 years.
Evidence collected from a sexual assault physical examination could not be used to prosecute a survivor for any misdemeanor crimes or offenses under the Uniform Controlled Substances Act.
Robert Sanford, representing the Nebraska Coalition to End Sexual and Domestic Violence, spoke in support of the bill. He said the Rape, Abuse & Incest National Network reported that victims of sexual assault do not report for a variety of reasons, including fear of retaliation, a belief that the police would not help or that the assault was not important enough to report.
"Advocates provide victims of sexual assault with information about the investigation and legal process, but they also provide them with the emotional support needed to tell a law enforcement officer, prosecutors and others involved in the process what happened to them," Sanford said.
University of Nebraska at Kearney student Kristen Tomjack also supported LB43. Sexual assault does not discriminate, she said, and can happen to anyone regardless of gender, age or ethnicity.
"This would give survivors a small sense of control in their lives, which they've lost," Tomjack said. "Having a document that details resources, options and instructions for requesting information is invaluable in the hands of the one who needs it."
Representing the Nebraska Criminal Defense Attorneys Association, Spike Eickholt opposed the bill. The provision of LB43 that requires access to an advocate is unnecessary, he said, because advocates already can and sometimes do sit with victims during depositions.
"Creating an automatic statutory right is arguably going to interfere with our ability to do our jobs," Eickholt said.
The committee took no immediate action on the bill.