Insurance producer, public adjuster requirements amended, advanced
A bill that would amend state law related to insurance producers was amended and advanced to final reading Feb. 22.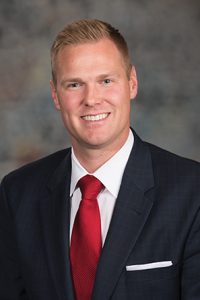 LB743, introduced by Omaha Sen. Brett Lindstrom, would create regulations for public adjusters—individuals who provide compensated assistance to an insured in the filing and settlement of a property claim against an insurer—through adoption of the National Association of Insurance Commissioners model law.
Omaha Sen. Burke Harr offered an amendment on select file that would incorporate into the bill provisions of his LB220. Harr said the amendment would provide protections for consumers who assign their property insurance rights or benefits to a contractor following a loss.
Among other provisions, the amendment would:
• expand the definition of a residential contractor;
• provide that an assignment of rights or benefits to a residential contractor may authorize the contractor to be named as a copayee for payment of benefits under a property and casualty insurance policy;
• expand notice provisions in order to inform an insured homeowner that with an assignment, the residential contractor would be entitled to pursue any rights or remedies that the insured homeowner has under the insurance policy; and
• require that the itemized description of the work, materials, labor, fees and total amount to be paid be furnished to the insured and insurer prior to commencement of repair or replacement work.
The amendment also specifies that the itemized description would not limit the insured or a residential contractor from identifying other goods and services necessary to complete repairs or replacements.
Lindstrom supported the amendment, saying it would ensure that homeowners understand what is happening if they assign their rights to a roofing company that makes repairs following a hailstorm, for example.
"[This] provides a notification that the roofing company would have to provide to the customer or client that if you sign this—if you assign this claim to us—you essentially are eliminating some of the rights that you have as the claimant on the claim itself," Lindstrom said. "It doesn't change the assignment process."
The Harr amendment was adopted 35-0.
Among other provisions, LB743 also would:
• establish criteria for resident and nonresident public adjusters;
• provide for administration of exams and licensure requirements;
• create a continuing education requirement for public adjusters;
• eliminate a pre-licensing requirement for insurance producers;
• require public adjusters to secure a minimum $20,000 surety bond;
• provide criteria for a business entity to become a public adjuster in Nebraska;
• remove a paper certificate requirement for insurance producer continuing-education activities and limit approval of those activities to four years; and
• prohibit an individual from acting as a public adjuster without being licensed in accordance with the act, misrepresenting that they work for an insurer or entering an agreement to repair property that the adjuster was engaged to adjust.
Following adoption of a technical amendment offered by Lindstrom on a 35-0 vote, the bill was advanced to final reading by voice vote.