Renewable energy production standard proposed
Certain public power districts would be required to produce no less than 20 percent of their electricity from renewable sources under a bill heard by the Natural Resources Committee Feb. 21.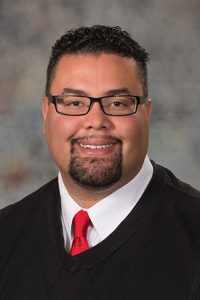 Under LB722, introduced by Omaha Sen. Justin Wayne, a public power district having within its chartered territory more than 50 percent of the counties in Nebraska would produce no less than 20 percent of its electricity from one or more renewable energy resources as of July 1, 2020. Those resources would include solar energy, wind energy, hydropower, methane gas, nonhazardous biomass and geothermal energy.
According to the Nebraska Power Review Board, which authorizes and oversees electric generation and transmission facilities in the state, the Nebraska Public Power District is the only utility that would be affected by the bill.
Wayne said that solar and wind energy are the future of energy production in the country, but Nebraska's public power utilities are not moving quickly enough to adopt more renewable energy sources.
"Nearly 30 states have some kind of renewable energy production standards in place for their utilities," he said, "and Nebraska should follow suit."
James Cavanaugh, speaking on behalf of the Nebraska chapter of the Sierra Club, testified in support of the bill. Recent advances in battery technology allow the large-scale storage of electricity generated by wind farms and solar arrays, he said, speeding the nation's transition to renewable energy sources over the next 10 to 20 years. The question is not whether the state will transition away from fossil fuels to generate electricity, Cavanaugh said, but how quickly.
Aside from environmental concerns, he added, the state also should consider the economic benefits of using more renewable energy. Facebook would not have located its new data center near Papillion if it could not get 100 percent of its electricity from renewable sources.
"More renewable energy projects will bring more good jobs to Nebraska," he said.
Testifying in opposition to the bill was John McClure, vice president of NPPD. The utility's customers received 17 percent of their electricity from wind and solar generation in 2017, he said, and wind energy will make up a larger and larger portion of the electricity generated in the Southwest Power Pool, a group of utilities and power generation companies that oversees electricity infrastructure in 14 states, including Nebraska.
However, the SPP already has an excess supply of electricity generation, McClure said. Additionally, NPPD estimates that it would cost between $20 million and $30 million per year to meet the proposed requirement.
"We don't think mandating NPPD to add more generation to its resource mix is in the best interest of our customers," he said. "It does not save them money—it increases their cost."
John Hoke, speaking on behalf of the Nebraska Rural Electric Association, also testified in opposition to the bill. As manager of the Niobrara Valley Electric Membership Corporation, an NPPD wholesale customer, Hoke said the corporation is concerned that requiring NPPD to generate a set amount of electricity from renewables would increase costs for ratepayers.
"Forcing them to add unneeded generation is only going to increase the cost of power to every wholesale and retail customer of NPPD," he said.
The committee took no immediate action on the bill.