Early termination of rental agreements proposed for victims
The Judiciary Committee heard testimony Feb. 15 on a bill that would allow the termination of a rental agreement in cases of domestic violence or abuse.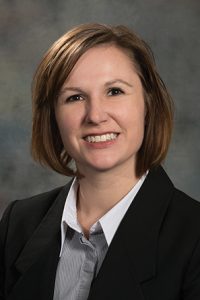 Under LB992, introduced by Lincoln Sen. Kate Bolz, a tenant or household member could obtain release from a rental agreement if they are a victim of domestic violence, sexual assault, domestic assault, stalking, human trafficking, neglect, or exploitation of a vulnerable or senior adult.
Bolz said that 1 in 4 women will experience some form of domestic violence in her lifetime. Victims must be able to safely remove themselves from violent or abusive situations, she said, without facing the financial repercussions from early termination penalties.
The bill would address a problem experienced personally by a constituent, Bolz said.
"I bring this bill to you with the intention of working to represent people who have not only been victims of crimes, but are being economically abused and manipulated," she said.
Before seeking release from a rental agreement, the tenant seeking termination would be required to obtain and provide proof of a protective or restraining order against the alleged perpetrator or seek assistance from a qualified third party.
The bill defines a qualified third party as a law enforcement officer, physician, psychologist, physician assistant, nurse, nurse aide or other medical, developmental disability or mental health professional, state Department of Health and Human Services employee or an employee of an organization providing services to domestic violence victims in conjunction with or at the direction of the department.
An amendment offered by Bolz would narrow the qualifying medical professionals to include only physicians and psychologists.
The tenant would be required to sign and submit a report about the alleged incident including the date, time, location, the perpetrator's identity and a brief description of the incident. The qualified third party then would provide a signed confirmation document to the victim, consisting of a copy of the report with the alleged perpetrator's name redacted.
To seek official release, the tenant would be required to provide to the landlord a copy of the protective order or the confirmation document. Additionally, notice to the landlord would include the names of any household members to be released and the date upon which the rental agreement would terminate—no sooner than 14 days and no later than 30 days upon delivery of the order or confirmation document.
Bolz offered a second amendment that would change the time frame for termination to no sooner than 30 days and no later than 45 days.
The tenant would be liable for payment of rent for the month in which the agreement is terminated.
Any person who seeks release from a rental agreement under LB992 as a victim of domestic violence would not be liable for rent or damages incurred after the release date, subject to any termination fee and would be entitled to any rental deposit or prepaid rent.
Additionally, the bill would allow landlords to terminate a rental agreement of a tenant that commits an act of domestic violence. If evicted or removed from a rental agreement, a perpetrator would be liable for all amounts due under the agreement. Any person remaining in the rental unit could execute a new rental agreement for the remainder of the original lease term.
The landlord could require any remaining tenant or occupant to agree, in writing, to prohibit the tenant who perpetrated the act of domestic violence onto the premises and to promptly report the perpetrator's presence to law enforcement or the landlord. Violation of this provision would be cause for termination of the rental agreement.
Robert Sanford, representing the Nebraska Coalition to End Sexual and Domestic Violence, supported the bill. He said there are only limited protections currently in place for victims of domestic violence living under private rental agreements.
"Housing needs are a key consideration for victims working on a safety plan," Sanford said. "This is a small enhancement to our current law that offers significant options to victims that few of us have ever had to consider."
While supportive of the concept behind the bill, Gene Eckel of the Nebraska Association of Commercial Property Owners opposed parts of the bill that could be open to exploitation.
"[The bill] doesn't indicate whether a tenant needs a temporary or permanent protection order," he said. "Can a tenant terminate a lease, go to another property and then use the same protection order to terminate again, even if there's no imminent threat?"
The committee took no immediate action on the bill.