Gun possession would be prohibited for certain juveniles
Certain adjudicated youth would be temporarily barred from possessing firearms under a bill heard by the Judiciary Committee Feb. 8.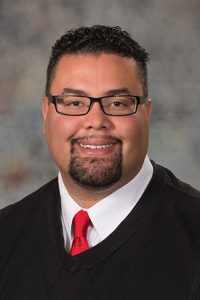 Under LB990, introduced by Omaha Sen. Justin Wayne, a person under 25 would be prohibited from possessing a firearm if they have been adjudicated in juvenile court of a misdemeanor domestic violence charge or any felony, are a fugitive from justice, or are the subject of a current domestic violence, harassment or sexual assault protection order.
Wayne said the state Supreme Court has made it clear that a juvenile adjudication has no impact on a person's civil liberties or rights, including gun ownership. Children can change, he said, but psychological research also says that a child's brain is not fully developed until 25 years of age.
"This bill will start changing the juvenile system so that after kids commit serious offenses there's a pause to make sure that our public safety is still number one," Wayne said.
A person who violates the bill's provisions would be guilty of a Class IIIA felony for a first offense, which carries a penalty of up to three years imprisonment and 18 months post-release supervision, a $10,000 fine or both. Second and subsequent offenses would be a Class III felony, eligible for up to four years imprisonment and two years post-release supervision, a $25,000 fine or both.
The prohibition would not apply to the possession of firearms by members of the U.S. Armed Forces, National Guard, Reserve Officers Training Corps, or law enforcement officers while on duty or during training.
A person subject to the bill's provisions could file for an exemption. The court would consider the person's behavior following adjudication, the likelihood of recidivism and any other relevant information.
Jim Maguire, representing the Nebraska Fraternal Order of Police, spoke in favor of the measure. He said the case of a 17-year-old who shot a sheriff's deputy shows the need for the bill.
If that young man's case remains in juvenile court, Maguire said, he would be able to purchase a gun after finishing his probation.
"We need to make sure the people who commit these crimes cannot have a firearm until they can show they are responsible for their actions," he said.
Omaha Deputy Police Chief Greg Gonzalez also supported the bill. Juveniles can be rehabilitated, he said, but they should earn back their right to gun ownership.
"This would ensure past transgressions committed by juveniles do not continue to haunt them into their adult lives," Gonzalez said. "However, the Omaha Police Department does believe that enforcement options should continue until 25 to ensure those past transgressions do not repeat themselves."
Opposing the measure was Spike Eickholt, representing the Nebraska Criminal Defense Attorneys Association. He said there already are crimes in statute that would cover an offense of this nature. Instead, Eickholt said, this would create another felony charge that could be stacked on top of other charges.
"Nothing in this bill would limit prosecutors from only charging this offense when a crime is committed," he said. "We already have overlapping layered offenses that can be piled on."
Christine Henningsen, director of Nebraska Youth Advocates, also opposed the bill. It would not make the community any safer, she said, but it would push juveniles deeper into the court system.
"Creation of a new felony based on a juvenile adjudication will not create a deterrent effect among youth and it won't make us any safer," Henningsen said. "I don't think creating a new felony that will open them up to incarceration and further punitive interventions is a step forward."
The committee took no immediate action on the bill.